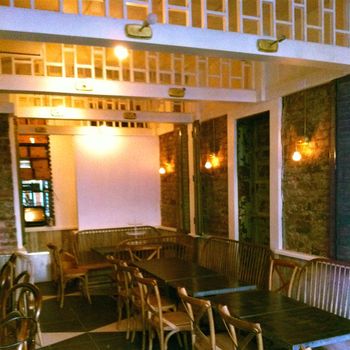 A peek at Masak's dining room.
Photo: Courtesy Masak
"It's so hard to even nail down what Singapore food is," says Larry Reutens, who's on track to open Singaporean restaurant Masak on 13th Street in a couple of weeks. "It's such a mash-up of Indian, Chinese, Malay, and a lot of European influence, too — the English and the Dutch." Reutens's own take will involve "a lot of my favorite dishes from around Singapore," including some that reflect the city-state's Malay influence and others that harken to his mother's Cantonese heritage. The chef has worked at Alias on the Lower East Side and at the now-defunct Tasting Room, and he admits that with all his New York cooking experience, the menu at Masak "is not going to be entirely authentic." Still, there'll be offerings on the menu that are hard to find elsewhere in the city.
Basing some of his snacks and appetizers on the fare served at "fry-up" joints — a step up from hawker centers, Reutens explains — he'll serve quih pie tee , a specialty of the Nyonya ethnic group that "literally means top hat," says the chef. "It's a fried container like a taco shell, but it's round. Filled traditionally with jicama, vegetables, with shrimp or with pork," and probably whatever Reutens can find at the Greenmarket. Another planned snack is the "very Malay" otak otak, a mousse made from mackerel, coconut milk, and spices that's stuffed into a banana leaf and grilled. There'll also be a Malay spicy shrimp dish, and a take on Cantonese whole pomfret, which will swap in easier-to-find pompano that's gently cooked in a broth made with ginger, shiitake mushrooms, and preserved sour plums.
The 40-seat "bright and casual" space is based on Singapore's traditional "black-and-white" houses, built by the British and combining tropical and colonial elements. There's a small open kitchen and an eight-seat bar, behind which Jeremy Hawn of Mayahuel will mix up cocktails using Southeast Asian ingredients like tamarind, lemongrass, and Thai basil. Reutens hopes to open late next week, or possibly the week after; dinner is rolling out first, with lunch and brunch later on.
Masak, 432 E.13th St., nr. First Ave.; 212-260-6740