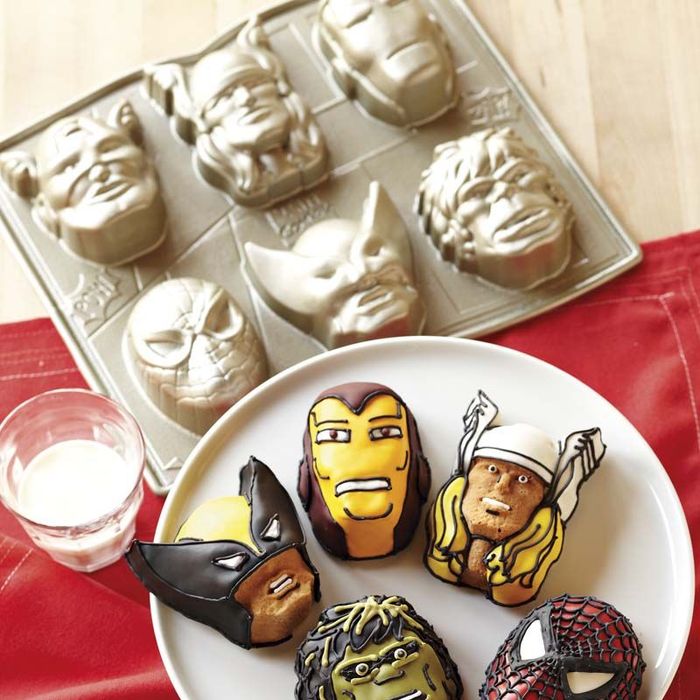 Is it Peter Parker under that mask, or the new, half-black, half-Hispanic Spider-Man?
Photo: Courtesy Williams-Sonoma
Some new cross-promotional bakeware at Williams-Sonoma featuring Spider-Man cookie cutters and Avengers cakelet pans really couldn't have come at a better time: Now that we're slumping toward the midpoint of an epic, ten-blockbuster sprawl of Marvel Universe movies that will all feature Samuel L. Jackson as a gruff, stentorian, and eye-patched Nick Fury, why not settle down a bit and bite through a nice cakelet shaped like Wolverine's head? Snikt!
Is the web-slinger depicted in that Spider-Man cookie cutter classic Peter Parker or the new, half-black, half-Hispanic version who stops muggings and hurts Lou Dobbs's feelings? Spider-Man: Nobody knows who you are. Thwap!
As food culture increasingly edges its way into comic-book pages, why not just bring the comic-book characters into the dominant food retail culture? Comic Book Resources has some great suggestions for future collaborations between the publisher and the retailer, including an electric knife sharpener for Wolverine's claws and an Asgardian reversible meat tenderizer that could be wielded by the Mighty Thor on veal scallopini night.
Spider-Man Cookie Cutters [Williams-Sonoma]