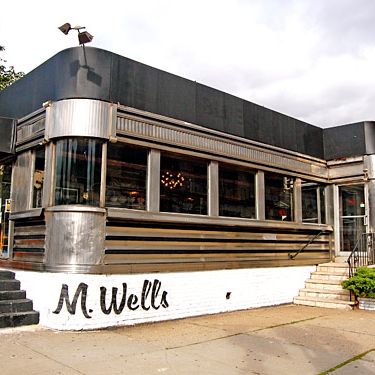 The space will be vacated at the end of the month.
Yesterday it was Motorino's Williamsburg location, and today we get word that the exceedingly popular and much-loved M. Wells will be closing its doors at the end of August.
The reason: Per a letter from owners Hugue Dufour and Sarah Obraitis that originally ran on the Hungry Tiger (and has since been removed), the couple made a "ambitious and risky decision to open M. Wells without long-term stability on the property" — they signed a one-year lease when they opened, and now that the lease is up, the renewal terms "included astronomically high rent, a short length of lease and a strict buy-out clause."
The letter continues: "After several months of trying to negotiate, we relented and accepted the fact that we weren't meant to remain his tenants … While this is devastating to the people who love our food, and more importantly the more than 20 employees who've dedicated countless hours of overtime, our spirit will not be crushed … [W]e will stay in Long Island City and we will have you back for brunch as soon as possible."
The news is no doubt a huge shock, but we hear Dufour and Obraitis are working on a new space close to their current location. We've got calls in and will let you know what we find out.
Update: An employee tells The Wall Street Journal's Metropolis blog, "We have another location, it just has to get refurbished and everything. It's in Long Island City."
Related: M.M.Good [NYM]
Earlier: Motorino's Williamsburg Location Closed for Good