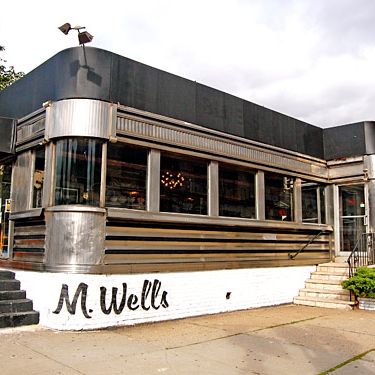 This diner's days are numbered.
Photo: Patrick Siggins
M. Wells is closing at the end of the month, but it won't be the end of the road for chef Hugue Dufour and his wife Sarah Obraitis, the owners of the cult Queens haute-diner. Insiders say the couple is in talks with P.S. 1 to man a food operation at the nearby MoMA satellite while they are in between main restaurant spaces. Dufour and Obraitis will tour the museum space early next week.
The restaurant's initial one-year lease on 49th Avenue expired last month. After months of unsuccessful and not particularly amiable talks with the landlord, said Obraitis, and amid a rent dispute, the lines-around-the-block eatery is shutting its doors.
Both owners declined to comment on any possible deal with P.S. 1, but Obraitis, who grew up in Queens, said the couple was 100 percent committed to remaining in Long Island City. Taking another abandoned-diner space is possible, but she says they're "not married to that." Dufour is looking for a spot that would boost their current 1,700-square-foot footprint substantially — they want to add space for sous-vide cooking — and the Hunters Point area right around LIC's former Kryptonite Comic Book Shop is under particular scrutiny.
When it comes to real estate now, "There's lot of attractive deals to be made," noted Obraitis. "We're very excited about the future." This time around, they're seeking a lease substantially longer than a year, but the couple hasn't ruled out — eventually — going back to the chef's home province of Quebec, either.
Obraitis added that they're aiming to keep the staff on, although one current employee noted that a relocation might take longer than first hoped for.