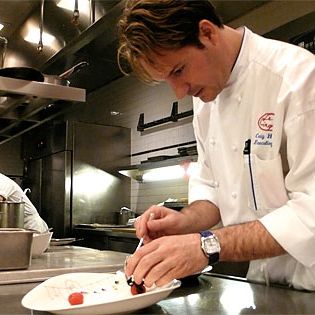 Hopson, at work in his full-time kitchen.
Photo: Ben Leventhal
The pop-up trend appears to be one that won't slow down anytime soon. Even though Ryan Skeen's TBD never saw the light of day, Grub just got word that Le Cirque executive chef Craig Hopson is teaming up with the Guerrilla Culinary Brigade — previously responsible for the Feast and the Hunger roving restaurants — to create a four-day dining venture in the Hotel on Rivington's penthouse.
The transient eatery, which will take place from August 23 to 26, will feature a theme ingredient every night (lobster, watermelon, heirloom tomatoes, sweet corn), and all of the food will be paired with matching cocktails. Among the planned dishes: lobster tortelli with foie gras sabayon and lobster mushrooms; hamachi crudo with seared watermelon and aged balsamic; steamed black bass with green tomato chutney and raw tomato vinaigrette; and sweet corn soup with rock shrimp fritters and basil essence.
Hopson tells us that he hopes to "expose the modern Le Cirque and its incredible food to downtown."
The dinners cost $95 per person for four courses and paired cocktails; reservations can be made here.