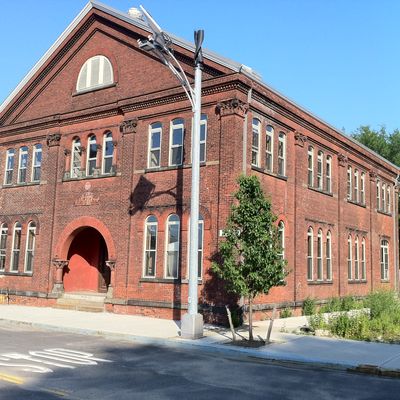 Kings County Distillery's future home.
Photo: Courtesy Kings County Distillery
You heard it here on Grub that Kings County Distillery has been bursting at the barrel seams and looking for a new location, and today the WSJ has the goods on the company's new digs: the historic Paymaster Building in the Brooklyn Navy Yard. Once settled in the new location, Kings will be able to produce ten times as much as they're currently doing. They'll continue giving tours, and co-founder David Haskell (an editor at here at New York) tells us via e-mail that "we will be building a grain garden next door to the distillery, growing corn, rye, etc. Obviously not enough to source from, but to give visitors a better sense of every step in the whiskey-making process." So look forward to that, and if touring makes you hungry, don't forget that Ted & Honey is going in at the Navy Yard as well.
New Brew for the Navy Yard [WSJ]