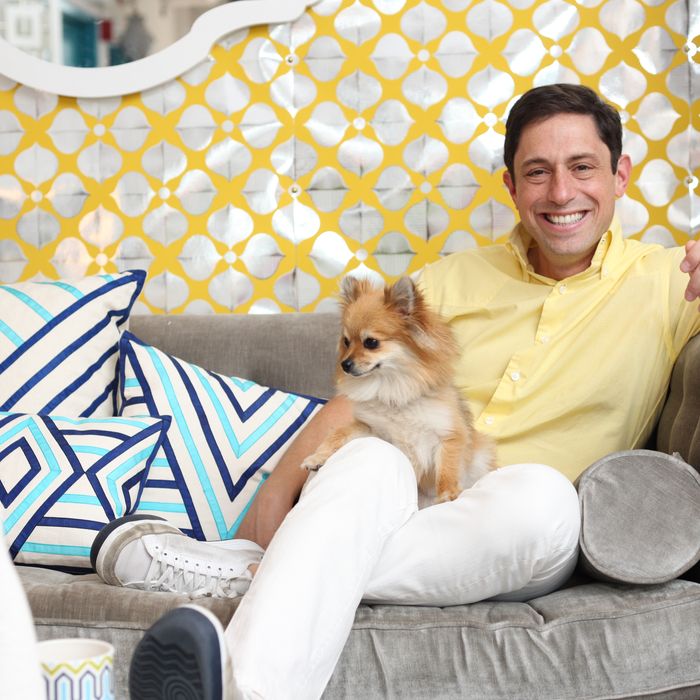 Jonathan Adler (the person, not the drink).
Photo: Melissa Hom
When we spoke to interior designer Jonathan Adler in June about his New York Diet, he made a confession: "My goal in life is to have a beverage named after me, sort of like an Arnold Palmer. I want the iced tea with milk to be the Jonathan Adler. Think about it: hot tea with milk. Why not iced tea with milk?" Well, now he's getting one!
Chelsea's Ports Coffee & Tea writes in to tell us that they are the "first and only place in the world to offer the namesake beverage," which they're making with Indian black and African rooibos teas infused with toasted coconut, chocolate, and vanilla, mixed with soy milk and served over ice, at $3 for a sixteen-ounce and $4 for a twenty-ounce size. We wonder why they messed with the simplicity of Adler's original idea by using soy milk, and adding the coconut, chocolate, and vanilla, but apparently the neighborhood's going wild for them; they say they've sold out every day since the beverage's "debut" over Pride weekend.
The burning question, of course, is, Has Jonathan Adler had one? We reached out to see, but a rep tells us he's away on vacation. At least this will give him something to look forward to when he comes back!
Earlier: Designer Jonathan Adler Falls Asleep Eating Cookies, Really Wants a Namesake Drink