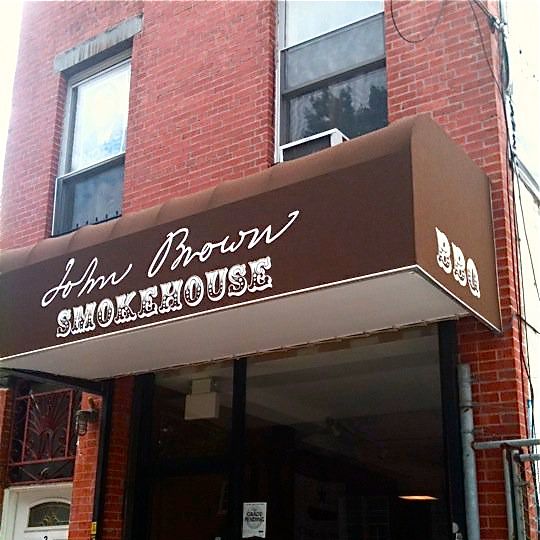 Where the magic happens.
Photo: Courtesy John Brown Smokehouse
The World's Fare blog of Edible Queens has got the goods on a new Long Island City barbecue restaurant called John Brown Smokehouse. Josh Bowen, who was "born and bred in Kansas City" and also recently worked at Hill Country, is the master of his own pit here, and his calling has manifested in the form of slow-cooked brisket and ribs, Kansas City–style. Pork belly and lamb sausage are also on the menu, which offers meats by the pound and some perfunctory sides. (DiStefano of World's Fare zeroes in on the ultrasmoky burnt ends.) The restaurant holds its grand-opening party tomorrow night, and there hasn't been this much (or any, really) hardwood-smoked excitement in Long Island City since Pearson's Texas Barbecue closed down a few years ago. We very well may have to soon add another spot to our great big barbecue list.
Menu
BBQ SANDWICHES
Pulled Pork………………..……..$8.00
Pork Belly…………………………$8.00
Rib Tips…………..……………..…$8.00
Lamb Sausage….………………$8.00
Beef Brisket……..……….………$9.00
Burnt Ends…………………..…$10.00

SPECIALTY SANDWICHES
(w/choice of one 8 oz. side)

P.B.L.T……………………………….……$9.50
Pork belly, tomato, and lettuce,
topped w/ mayo on Texas toast.

Pit Beef………..……………….…..……$10.00
Bottom round, smoked rare and charred, sliced
thin and stacked w/ horseradish mayo.

John Brown Burger….……$10.00
1/2 lb. of ground beef, smoked then grilled to order,
w/ tomato, pickle, and lettuce.


PLATTERS
(w/ 1 side) (w/ 2 sides)
Burnt Ends: $11.50 $13.00
3 Ribs + 1 Meat: $11.00 $12.50
1 Meat Platter: $10.00 $11.50
2 Meat Platter: $12.00 $13.50
3 Meat Platter: $15.00 $16.50


PORK SPARE RIBS
(Solo) (w/ 8 oz. side)
Quarter Slab: $8 $10
Half Slab: $14 $15.50
Whole Slab: $25 $26


CHICKEN
(Solo) (w/ 8 oz. side)
1/4 Bird: $5.00 $7.50
1/2 Bird: $9.00 $10.50
Whole Bird: $16.00 $17.00


MEAT BY THE POUND
Pulled Pork…………….……….. $15.00
Pork Belly……………………….. $16.00
Brisket…………………………. $19.00
Burnt Ends…………………….…$20.00


SIDES

Hand-Cut Fries Cole Slaw Corn Fritters

Baked Beans Mac and Cheese
8 oz………..…………………….$3
16 oz……….…………………….$5
32 oz………………….………….$9

SALADS
(All served meatless upon request)
Jackson Salad…………………….……….…$7
Field Greens topped with bleu cheese, tomato, onion, crisped pork belly, and Smokehouse vinaigrette.

Pork Mountain………………..……………$8
Pulled pork piled high on top of a traditional Iceberg salad with Bleu cheese dressing

House Salad………..………………….….…$8
Sliced Chicken breast on a bed of Romaine, spinach, basil, onion, tomato, pickles and corn, drizzled with Vinegar and Oil.

DESSERTS
Fresh Fruit Pies
Cakes from Scratch
Cobbler of the Day
John Brown Smokehouse, 25–08 37th Ave., Long Island City; 718-361-0085
John Brown Smokehouse Brings 'Cue to LIC [World's Fare/Edible Queens]
Earlier: Big-City Barbecue: 101 Places to Satisfy Your Urban 'Cue Craving