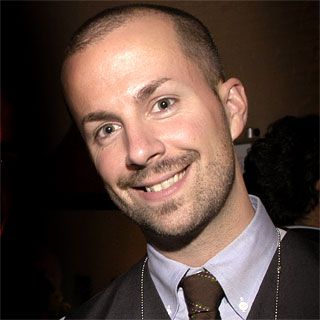 Jim Meehan.
Photo: Patrick McMullan/Patrick McMullan
As you might have heard, PDT's Jim Meehan is not only coming out with a nifty print book, but just last week he released an e-book, Speakeasy Cocktails: Learn From the Modern Mixologists, with Joseph Schwartz of Silver Lining and Little Branch. The "book" by Open Air Publishing is not linear, but lets you jump fluidly between recipes culled from 58 mixologists, a section on "gear," where you can actually buy the strainers and such recommended, videos illustrating techniques like garnishing and swizzling (often appended to recipes), a pull-out glossary accessible at anytime, and too many other features to go into. You can buy that for $9.99 through the app store on your iPad.
If print is more your style, The PDT Cocktail Book is now slated for November 1. A galley plonked its way onto our desk recently and we're trying to picture the black-and-white rendition done out in full color, like those subway posters done by the same artist, Chris Gall. Meehan sees his print and web books as corollaries of sorts. The PDT Cocktail Book "addresses the need for print media to be more than just print media" with "value-adds" like the art component, the illustrated guide to barware, and the "overall package," which lends timelessness. While the web book addresses the way people consume media now and "the need for online content."
And these aren't the only books Meehan's cooking up. He tells us he's just finalized the concept for the annual Food & Wine cocktail book, dropping in March or April of 2012. For this year, his sixth on the project, Meehan will ask 44 bartenders from around the country for their version of a classic drink, coupled with two variations. The idea is to "put forward the idea that all drinks sort of have a classic foundation," he tells Grub. And! There's also the Woody, a mobile bar that's been fashioned from a vintage camping trailer, in collaboration with Moore & Giles leather goods and the interior designer Brad Ford. The Woody has been to two events in the Hamptons, with a third planned. Just try not to think about it as a pop-up. Whew. Check out video footage from Speakeasy, of Jim making a Negroni, below.
Making a Negroni, excerpt from iPad book "Speakeasy Cocktails" from Open Air Publishing on Vimeo.