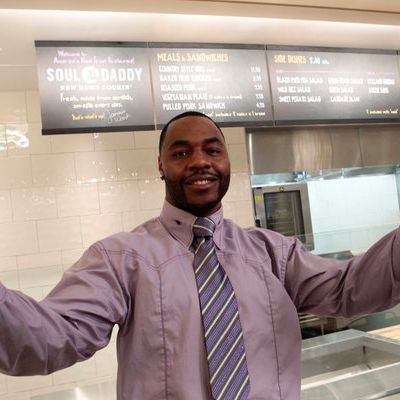 Not so happy at the moment.
Photo: Chris Haston/NBC
Maybe he won't be taking that old job at Chrysler after all: America's Next Great Restaurant "winner" Jamawn Woods, whose three restaurants were closed like an hour after they opened, tells TMZ that Chipotle is to blame for his dream's quick end.
The deal was evidently that the chain would supply a management team for Woods's Soul Daddy restaurants, but, "According to Jamawn, Chipotle hired a bum management team with NO experience cooking soul food OR running a soul food restaurant." (We doubt he's talking about himself, even though he also appears to have had no previous experience running a restaurant chain.) Anyway, Chipotle also owes him $46,000 for the salary he was supposed to have gotten as a result of winning. But he's not suing; the two sides are working on a settlement.
"NEXT GREAT RESTAURANT" WINNER: CHIPOTLE SABOTAGED ME [TMZ via Eater]
Earlier: Jamawn Woods Can Have His Old Job Back