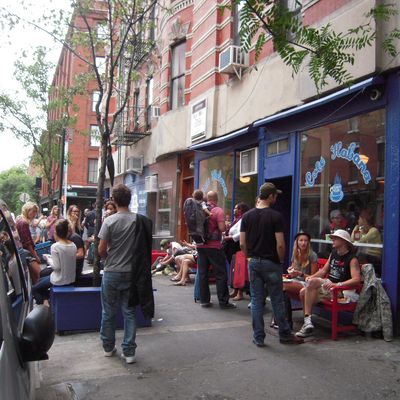 Line outside Cafe Habana post-tropical stormicane.
Photo: Jillian Goodman
In the end, Irene got everyone all tipsy and Trader Joe-ed, knocked up Beyoncé, and inspired Katy Perry to wear Cheddar cheese on her head. But seriously, Grub Street hopes everyone weathered the storm safely, perhaps with a last-minute survival party at the Spotted Pig, Bar Tabac, Colonie, or any of the many restaurants that scrambled to open last-minute on Sunday after the storm calmed down. Personally, some of us were (and still are) dealing with nasty flooding (ugh), but that didn't stop us from creeping over to Floyd NY for Blue Moons and bocce, then intoxi-stalking Sam Sifton's Twitter page, where he forwarded one of Updike's best quotes ever, "The true New Yorker secretly believes that people living anywhere else have to be, in some sense, kidding." Cheers to that.