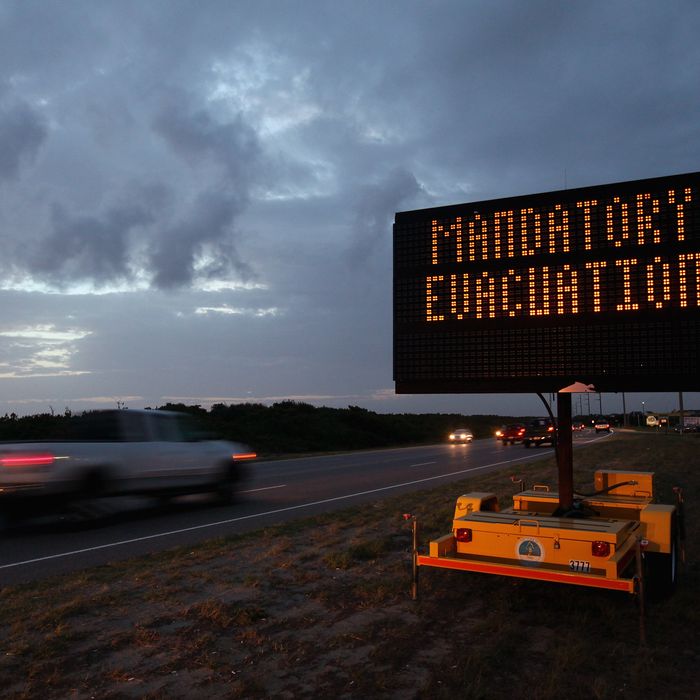 Signs of trouble?
Photo: Scott Olsen/Getty Images
The shore's being evacuated, the Black Landlord BBQ's been canceled, and Mayor Michael Nutter is telling residents near creeks and rivers to start seeking higher ground. Clearly this Hurricane Irene business is both serious and one major buzzkill for the weekend. Our best suggestion is to fight fire with fire. And perhaps the best place to do that is at Center City's Rum Bar, where owner Adam Kanter is pouring $5 Walnut Street Hurricanes tonight and tomorrow. Order one tonight and you'll be entered into a drawing for a pair of tickets for tomorrow's Phillies game. On the other side of Rittenhouse Square, the folks at Pub & Kitchen are hosting evacuees from their sister restaurant the Diving Horse for an impromptu pop-up on their second floor Saturday night. The $65, five-course prix fixe will have very limited seating. Call ahead for reservations.
• McGillin's is also fighting the hurricane with hurricanes. It's offering the stormy weather cocktails for $4 all weekend.
• The Irish Pub has plans to host Hurricane Irene Party Weekend, and will be open from 11 a.m. to last call. The kithcen will serve food until 1 a.m. The bar will have "Irish Hurricanes" on special as well as deals on select draught beers and bar menu items.
• Brauhaus Schmitz is upping the ante with beer specials, a special hurricane-inspired playlist and what it's describing as "Pat O'Briens-style" hurricanes.
• Barring flooding of biblical proportions, Fathom Seafood House intends to stay open. It will have its take-and-bake clambakes at the ready for eat-in and take-out. The pots include mussels, clams, shrimp, 1/2 a lobster, andouille sausage, corn on the cob and potatoes.
• The good folks at Green Aisle Grocery will start selling Have a Nice Hurricane Kits at 5 p.m. tonight. Each kit has free-range eggs, Zahav hummus, a bag of coffee, Flying Monkey whoopie pies and more.