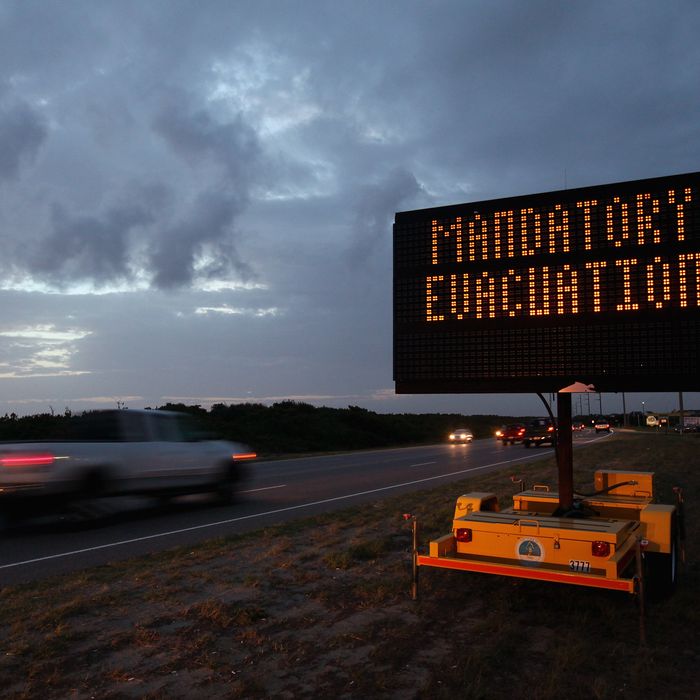 Everything New Yorkers need to know as the food scene faces Irene.
Photo: Scott Olsen/Getty Images
You could say that when you're in the restaurant business, every day is a hurricane (albeit with a much sexier name). So it's no surprise that most of our favorite chefs aren't exactly fretting over the storm to come, yet they're not fully in denial either. Here are some specific plans of action, involving the hiding of porcelain pigs, loading up on hundreds of votives, and "calming the fuck down."
Business as Usual, Without Any Schmaltz
Andrew Carmellini of The Dutch and Locanda Verde tells Grub, "The night of the big storm, around Christmas, Locanda had one of it's busiest nights ever. People just showed up and partied. We are going to treat it like any other weekend and hope for the best. We're looking at the schedule now and making a plan for staffing that could be affected by a subway shut down. Chances are there won't be any hurricane specials or 'Come on Irene' remixes on the sound system, though."
Staff on Lockdown
Staffers at Imperial No. 9 are encouraged to stay at the Mondrian Hotel (in which the restaurant is located) for free on Saturday night. And although management tells us that "The Green House is really sturdy," it's too hard to tape up an entire room of glass, thus customers will be seated in the interior dining room only. Also, Chef Talbot has implemented a full menu plan if the city loses power.
Environmentally Savvy
All day Saturday, The Smith and Jane will fill customers' own bottles with their purified water for free, because the the city's water could be shut down.
Attitude is Everything
Cobi Levy at Niko tells us, "First thing, everyone needs to calm the fuck down, we'll survive much like the earthquake that was the equivalent of getting bumped into at a nightclub and the End of the World guy earlier in the summer. While there are clear obstacles to owning a second-floor restaurant, when there are imminent floods and locusts, it's good to be on a perch. I could also just post sushi chefs at the door with knives." On the same dismissive note, the Keith McNally folks say, "Oh please, this is really no big deal."
Everything in Moderation, Including Moderation
Over at WD-50, they tell us, "We did purchase some sandbags as our basement is known to flood. We are moving wines from the lower shelves in our cellar and computer towers up onto desks … all located in basement. That's it so far." Also, Brian Shebairo, owner of PDT and Crif's, went and bought a bunch of generators from Vermont … because apparently in New York, it's impossible to find a generator.
Work the Romance and Bribery Angle … Hard
Brad Farmerie at Public tells Grub, "Bubblewrap and bolting? No way! Public will be open as always — a refuge for those fleeing the storm. We will have a ton of food and about 1000 candles in case the power goes out. We might throw a tarp over the skylights, which will just add to the cozy, romantic feeling that Public already has. I'm actually looking forward to taking extra care of anyone who braves the elements to be with us for brunch or dinner. I'm sure there will be a few extra goodies from the chef to keep everyone in high spirits."
If Anyone Is Neurotic, It Should Be the Deli Owner
The Mile End folks say they're likely closing on Sunday and, "planning to tape window seams and sandbagging the front door and the cellar hatch. Nothing else really to do — If public transportation is cut off, obviously I can't expect staff to arrive. Hopefully we can open Monday morning but likelihood is Tuesday morning."
Milk It, Baby, Milk It
R Lounge in the Renaissance Times Square Hotel (zone-free!) will be hosting its own hurricane party with, "popping popcorn, playing movies, and supplying board games so locals and hotel guests can hang out and watch the storm brew." Also, The Hurricane Club is obviously riding the wave and offering a $29 three course prix fixe on Saturday and Sunday for parties of four or more called "Dinner with Irene."
Hurricane or Not, We're Playing Hooky
Boulud Sud has already decided to close for the day on Sunday, so has Nuela and Ed's Lobster Bar. And it should go unsaid that Mario Batali is gushing about his stormlessness in Michigan.
First Priority: Saving Pigs
François Latapie of Lyon tells Grub, "My first order of business is taking my butcher pig from the Lyon window and hiding him in the basement. It took me months of searching every market from Lyon to Paris to find one like him. I'm also bringing in all my umbrellas to give to our diners who have lost theirs."
Pure FML Mentality
Sarma Melngailis at Pure Food & Wine/One Lucky Duck tell us, "We have a lot to worry about with our basement … and we're already a low restaurant. It flooded in the dining room less than a couple weeks ago! So worry about so much rain … our plumber loaned us an extra pump in case of basement flooding. Or even dining room flooding, as we're so low to the ground. We have 70-plus seats in the back patio, so we'll be hauling every table, chair, umbrella, bar stool — everything we can inside. And, though we haven't made it official, it seems sort of inevitable that we'll close … And I worry about all our windows too … sorting out what to do about that … And yeah, doesn't help that Verizon hasn't fixed our fucking phones!!!"
More from the alarmists and unfazed coming up ….