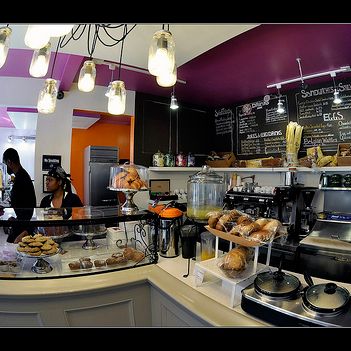 To keep the coffee coming, visit Ms. Dahlia's.
Photo: Courtesy Ms. Dahlia's Cafe
The owner of popular two-year-old Bed-Stuy breakfast and lunch spot Ms. Dahlia's Cafe tells Bed-Stuy Patch that two recent robberies have left her unable to pay rent and will likely force her to close the business. Margo Lewis says that thieves stole her rent money, and she's been served eviction papers by her landlord. In the meantime, a cadre of loyal customers and employees — some of the latter have temporarily given up their paychecks — have come to her aid. Lewis also adds that the recently opened next door Vodou Bar has added serious brunch-time competition in the form of liquor sales; cocktails at Vodou have names like "Forbidden Fruit" and "Hell's Fury." Part-skim lattes just can't compete with that.
While one establishment specializes in muffins and tuna melts, and the other is seemingly focused on cocktails and Sexy Time, the issues between Vodou Bar and Ms. Dahlia's extend beyond basic competition for business: Daphne Surpris, the landlord trying to evict Ms. Lewis, is a co-owner of both businesses and seems to have a conflict of interest. For her part, Surpris conveyed to Patch that the two have "entirely different brunch menus," and that Vodou is a "bar that sells alcoholic beverages, not a coffee shop."
Ms. Dahlia's has put a sign up in their front window, according to Patch, to let them know about the possible eviction. Lewis says she's been making take-home barbecue dinners in order to boost sales.
Strapped for Cash, Ms. Dahlia's Fights Eviction [Bed-Stuy Patch]