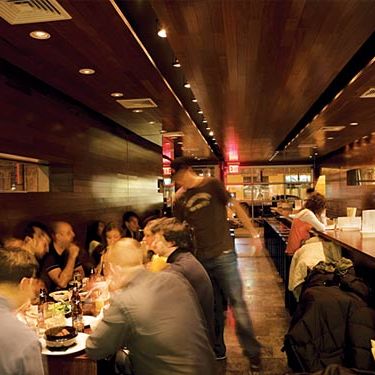 Momofuku Ssäm Bar.
Photo: Bumblebee Studio for New York Magazine
When Milk Bar moved across the street and Momofuku launched its all-duck counter-service lunches in the old space, two tap beer lines were installed to service Bar Bar, the new bar at Ssäm. Bar Bar (as it's officially known) has now launched an oysters-and-beer-focused happy hour, available Monday to Friday, from 6 to 8 p.m., and Sundays from 3 to 8 p.m. During this time, Naked Cowboy oysters go for $2, and pitchers of craft beer are $20. Draft selections will change constantly but will always be domestic and craft. Right now at Bar Bar it's Captain Lawrence Kolsch and the "Dry Hopped" Pale Ale from Michigan's Founders Brewing Company. You'll also note: This marks the first time in its history that Momofuku has offered tap beer.
Bar Bar, which keeps late-night hours that extend well beyond happy hour, has also introduced some new menu items in addition to its regular meaty slices of Benton's bacon and Broadbent ham: Just-added small plates include pickled mussels with kohlrabi, wild spinach, and shishitos. There are also little pork sausages, served with rice cakes, Chinese broccoli, and Sichuan pepper. Check out the full menu below.
But Momofuku isn't the only one doing this. Last week, we also told you about the new happy-hour menu at No. 7 in Fort Greene, featuring $3 pints, $5 well drinks, and $9 specialty cocktails served Monday through Friday, 5:30 to 8 p.m. And now we have the full menu, which includes a drink called Roman Highball (made with Averno, lime, ginger, and soda), and was put together by Kathryn Weatherup, of Weather Up and Weather Up Tribeca. That menu is below, too.
Momofuku Bar Bar [PDF]
No. 7 Happy Hour [PDF]