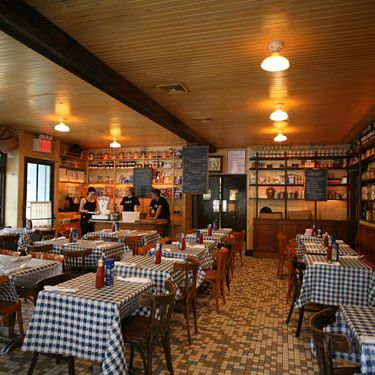 The space, in its last incarnation.
Photo: Shanna Ravindra
We've known for a while that the shuttered, French-market-themed Café Charbon space at 168–170 Orchard Street will soon complete its transition from baguettes to full-fledged bro bar. This morning, Bowery Boogie reported on the findings of some Buildings Department website sleuthing that indicated the forthcoming watering hole will open as the second location of the UWS co-ed and beer pong heaven the Gin Mill. Another Gin Mill? Could this be the final nail in the coffin of the Lower East Side's scene? With all of these nails, how heavy must that coffin be by now?
That question is too philosophical, so we turned to Gin Mill co-owner Michael Asch for some basic information about the restaurant's new name. After all, he told blogger EV Grieve in June that the new owners were "planning to be sensitive to to the community as far as a name is concerned." That in mind, the Gin Mill co-owner, who also has a stake in Off the Wagon Bar & Grill, Down the Hatch, and 13th Step, has decided to name the new establishment Hair of the Dog. ("I could call it 'Fried Green Tomatoes' and it would still have a negative connotation for some," Asch says.) As reported earlier, it will be a "pub, sports bar, and grill." Opening date is set for December 1.
Hair of the Dog, 168–170 Orchard St.
Gin Mill to Open Inside former Cafe Charbon on Orchard? [Bowery Boogie]
Earlier: A Little Piece of Café Charbon Could Be Yours