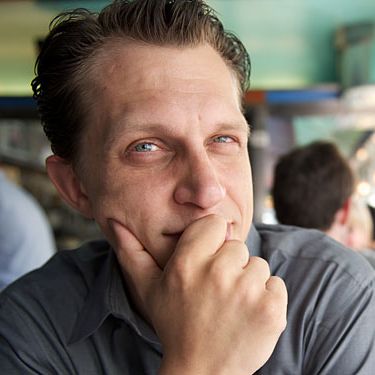 Laiskonis gets critical.
Photo: Luke Townsend/? Copyright Luke Townsend 2011/New York Magazine
In his post as executive pastry chef at world renowned French dining temple Le Bernardin, Michael Laiskonis doesn't turn out too many pies, but that doesn't mean the James Beard Award winner doesn't like them. "Sometimes we get too complex for our own good, so it's good to go back and sort of recalibrate," he says. We were more than happy to help him do just that on a recent afternoon, escorting the easygoing Laiskonis around town stuffing our own pieholes, so to speak, at the Dutch, Momofuku Milk Bar, M. Wells, Four & Twenty Blackbirds, and Pies-N-Thighs, plus one from Hester Street Fair vendor and Fatty 'Cue purveyor First Prize Pies. Laiskonis arrived with his appetite primed, announcing, as we dug in to our first specimen, "This is breakfast for me." See his thoughts on the crust, filling, and comfort factor of each slice, then check out his winner, straight ahead.