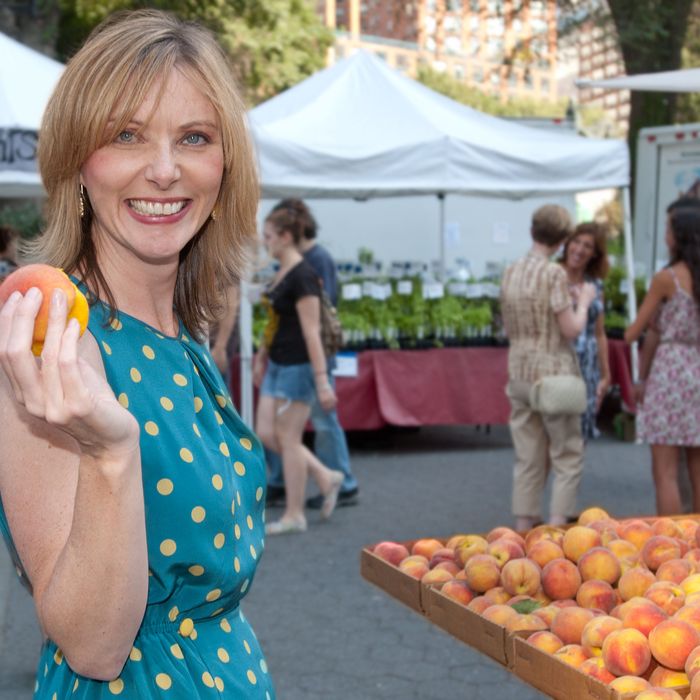 Steel, at the Union Square Greenmarket.
Photo: Jed Egan
Tanya Steel wasn't supposed to be in New York this week, "I was supposed to be in the spider-and-monkey-infested jungles of Costa Rica," she says. But thanks to a "freak accident" in July that resulted in broken ribs and a punctured lung, she's still in New York, though she promises she's on the mend. Then again, it's probably better that she's here, since her site, Epicurious, is already ramping up for its huge Thanksgiving and holiday coverage, the heavily trafficked site's most important time of the year. "It's incredibly busy. So we're planning all of those stories right now." As such, she says that Costa Rica trip will have to wait until February. "Although with my luck, there will be a snowstorm and we'll be grounded." But there are probably worse places to be than New York when your daily routine involves tastings of sea-salt honey cake at the office and hitting Stone Barns for veggies, both of which you can read all about in this week's edition of the New York Diet.
Friday, August 5
I was tentatively having lunch with Chinese cooking expert Nina Simonds, and I had a 9 a.m. conference call, so I ate breakfast hunched over my keyboard — a bowl of blueberries and strawberries with a big dollop of Fage yogurt and a sprinkling of granola, which I had made the weekend before from my cookbook. I even splattered some yogurt onto my keyboard.
Because of a scheduling snafu, lunch morphed into a coffee break: broke bread — well, cinnamon coffee cake — with Nina at the Condé Nast cafeteria.
Sugar is my one true vice and addiction — I'm pretty powerless against anything sweet. So, since I was already off the sugar wagon, I went over to the cubicle of Kemp Minifie — formerly of Gourmet magazine and now at Gourmet Live — because she's been developing a honey-cake recipe for a Rosh Hashanah feature. This version has drizzled dark chocolate and sea salt: sweet, moist, and salty all at the same time.
When I got home to Port Chester, my boys were starving. I have identical twin boys and they turned 13 a few months ago. I whipped up a fast stir-fry with what I had in the fridge: organic chicken breasts, carrots, scallions, sugar snaps, edamame, and garlic. I threw in leftover brown rice, soy sauce, fish sauce, sesame oil, and a squeeze of lime. Dinner was ready in fifteen minutes. I served it with crispy rosemary-olive oil tortas from Spain.
I always end dinner with a treat, and so for the last six months I've had an obsession with Edy's Slow Churned Peanut Butter Cup ice cream. I eat it in a small blue bowl with a tiny spoon so I feel like I'm eating more than I am.
Saturday, August 6
My husband doesn't cook, but he knows how to make a perfect latte. We use an inexpensive Italian espresso pot and Lavazza coffee, and he wakes me up with a latte every morning.
I had some berries and went for my weekend walk, the only time I get to exercise and listen to music. Sigur Rós and Radiohead are usually my soundtracks of choice.
The moment my kids turned into teens, their body clocks changed. This summer, they've been getting up at 11 a.m. I woke them up with breakfast: scrambled eggs with tomatoes and basil from my garden, mixed berries, and honey-wheat bagels with cream cheese. I ate some scraps.
Around 3 p.m., we all snacked on smoked salmon on olive-oil-infused flatbread and a mixed green salad. We ate it on our deck.
The boys had some friends over and they were starving, so I cooked linguine and added homemade turkey meatballs and spinach-mint-basil pesto, both of which I always have in the freezer. I had a small bowl of that with Gruyère shaved on top.
Around eight-thirty, the boys were hungry again, so I made whole-wheat chocolate chip cookies from my book, and used dark-chocolate squares I have in the freezer. I ate, oh, five large cookies.
Sunday, August 7
We were supposed to go to the Catskills to help my sister and brother-in-law fix up their newly bought cottage, but with rain in the forecast, we headed instead to one of my favorite farmers' markets — Blue Hill at Stone Barns. The farm, restaurant, café, and market are my favorite, and I think Dan Barber is boss, in the parlance of the boys.
I tend to only go out to dinner for work or with my family on weekends. At this point in my life, I like to cook at home as much as I like to eat out. Maybe it's because I grew up in New York and was fortunate to dine out often — whether it was before I hit Studio 54, CBGB, or Xenon back in the day, or during my earlier editorial positions at Food & Wine and Bon Appétit. Through the years, I've been extremely, extremely lucky to experience some of the world's best restaurants.
But my kids love to go out, so on Sunday nights we sometimes to go Mario Batali and Joe Bastianich's Tarry Lodge in Port Chester, or the local barbecue spot called Q. But the squash, onions, and carrots from Stone Barns were calling my name, as were the peaches on the counter. I made dinner, instead: quinoa with sautéed veggies, warmed-up olive bread, and a peach crisp with cinnamon, nutmeg, and granola. Not a speck of dessert was left.
Monday, August 8
At work. Bran cereal with berries and skim milk. Meh.
Was starving around noon, so I went for a falafel at Moshe's truck outside my office on 46th Street. I've been a customer for years. $4 buys you a huge sandwich overflowing with lettuce and tomatoes, crispy chickpea fritters, and a nice slick of tahini sauce.
Later, I searched around the office for random food, preferably sweet. I found a not-very-good chocolate-covered fig. So not worth the calories.
I had assembled a cheesy sausage lasagna on Sunday right after I made the crisp; I generally make a few dishes on Sunday afternoon for us to eat throughout the week. My husband put it in the oven so that we could all eat between the boys' tae kwon do class and their heading over to see Captain America.
I had my ice cream while reading the paper — quiet and calm.
Tuesday, August 9
I had a wintery breakfast in the office — oatmeal with dried fruit. It fills me up for hours and is very satisfying.
I was racing to the dentist later, so I grabbed a thick fresh-fruit shake from the fruit truck outside my office. Nothing but mango, strawberry, and banana with some ice.
When I got back to the office, was feeling some loud stomach growls, so I quietly ate a Kashi bar in a meeting.
When I got home, I slathered spicy barbecue sauce on chicken, fired up the grill, and served the poultry with the last of the quinoa and veggies. My husband had bought some churros from a Mexican restaurant in town and, naturally, I ate a bunch of them in a warm honey-chocolate sauce that I keep in the fridge for just such an occasion.
Wednesday, August 10
I skipped breakfast because I thought I would be pigging out at a relatively new Indian restaurant, Junoon, with a former colleague. Whenever I try a new restaurant, I usually put the reservation under someone else's name, so I can get a true sense of the food and service. We ordered pakoras, a paneer salad, halibut in a curry sauce, and walnut-and-prune naan. The food was inventive and fresh, but the service was slow. Good to know.
I got home late, so my husband had picked up a mozzarella-and-basil pizza for the boys. I didn't have any, and besides, I was still stuffed from lunch. I ate two ripe nectarines and a Cadbury Flake, brushed my teeth, and said finito.