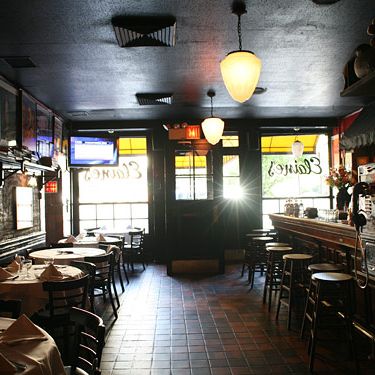 Elaine's.
Photo: Shanna Ravindra
Something tells us this won't be like your typical restaurant auction: The Times' City Room blog is reporting that Table No. 1 from Elaine's, which closed in May, will be auctioned off on September 20. Also on the block: posters and artwork from the restaurant (including its papier-mâché horse), as well as other "books and memorabilia" — including a kickass Keith Hernandez–signed baseball — from Elaine Kaufman's estate.
Estimates are that the table, with chairs, will go for $400 to $600; two pieces by Andy Warhol will run roughly $10,000 to $15,000 each; and a Wallace Berman piece should net $30,000 to $50,000.
High rollers can check out the full list of available items at Doyle New York.
Table 1 at Elaine's Is Available. Art Is for Sale, Too. [City Room/NYT]
Earlier: Lipton, Lapham, Talese, and Others Have One Last Drink at Elaine's