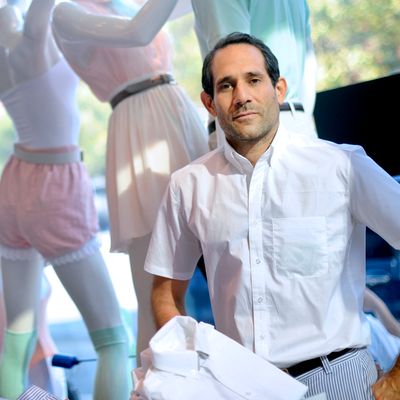 Charney's "I can relate to the busboys" ensemble.
Photo: Keith Bedford/Bloomberg via Getty Images
Last we heard from American Apparel CEO Dov Charney, he was struggling to fend off bankruptcy amid his company's image and financial problems. However, those conical Asian hats must be selling well, or maybe he's looking to switch industries: Word is Charney's one of the investors in upcoming East Village restaurant the Cardinal.
As departed Grub editor Daniel Maurer writes over at his new gig at the East Village Local, former Bad Wizard front man Curtis Brown has left his role as chef at Bubby's Tribeca and will open the mostly southern Cardinal mid-month. And if our barbecue slideshow this morning made you hungry, know that the Cardinal will offer a veritable tour de 'cue made from Fleischer's and Heritage meats, with "Memphis-style ribs, North Carolina-style pulled pork, and Texas-style brisket, as well as non-barbecue items such as lard biscuits, fried chicken, and fried pork chops with red-eye gravy."
How all of this fits into Charney's life plan, we're not certain, considering that anyone even breathing in the aromas of this food would probably not want to consider climbing into a pair of American Apparel's shiny Lycra leggings. We just know we wouldn't want to be a pretty young waitress here.
The Cardinal, 234 East 4th St., nr. Ave. B
Curtis Brown Will Open The Cardinal With American Apparel's Dov Charney as Investor [East Village Local/NYT]