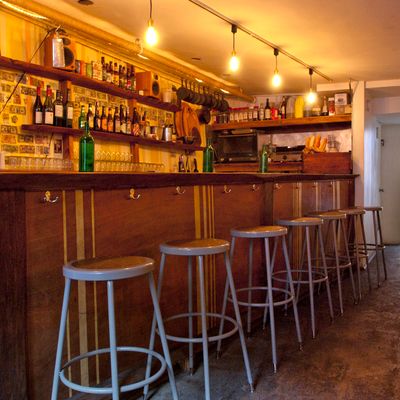 Looks pretty harmless.
Photo: Jed Egan
Cole Schaffer, co-owner of our favorite LES bar, Culturefix, tells Grub Street that his low-key wine-and-beer den was raided yet again on Saturday. You'll recall our eyewitness account of eight or so cops storming the place back in June. Well, this march raid was even more needlessly dramatic, involving multiple police officers, the precinct captain, a lawyer used by the NYPD, State Liquor Authority officials, and New York firemen.
According to Schaffer, around 10 p.m. on Saturday, 20 or 30 people were in the bar celebrating a birthday when the first cop came in, ordering the bartender to shut off the music and cease serving drinks; that officer was followed by the rest of the entourage. The SLA and fire department went into the bar's office, where the liquor authority was looking at invoices and at Schaffer's liquor license and the fire department looked at plans. Meanwhile, Schaffer went outside to speak with 7th Precinct captain David Miller, who told the bar owner, "You should've come to my meetings." Schaffer points out to Grub that, "[Miller] calls [the meetings] at four o'clock and six o'clock, when bars operate." When queried whether Schaffer's failure to attend any meetings was the reason for the second raid in two months, the bar owner says Miller told him, "Oh no, it's just random."
After more than an hour, Schaffer and his business partner, Ari Stern, were slapped with a noise violation and a violation for having an unlicensed security guard. "My music was below level, like it always is," Schaffer points out, speculating that since police didn't take a decibel rating, that claim will likely be dismissed. As for the other violation, Schaffer says he merely had someone checking I.D.'s, as cops had warned him to do, and had never positioned that person as security.
"All told, I probably lost $1,000 worth of business while they were there," Schaffer tells us, noting that most of his customers trickled out while this was happening. Though Schaffer doesn't think this round of violations has any merit, he points out that his previous case is still under review, and he knows the SLA looks at every violation whether it's eventually dismissed or not. "I'm really worried we're going to be slapped with more fines or have our license revoked entirely," he tells Grub. "I can't see it as any other way than harassment at this point. [The NYPD] keep[s] waiting for us to slip up."
Earlier: Crackdowns Continue on the LES