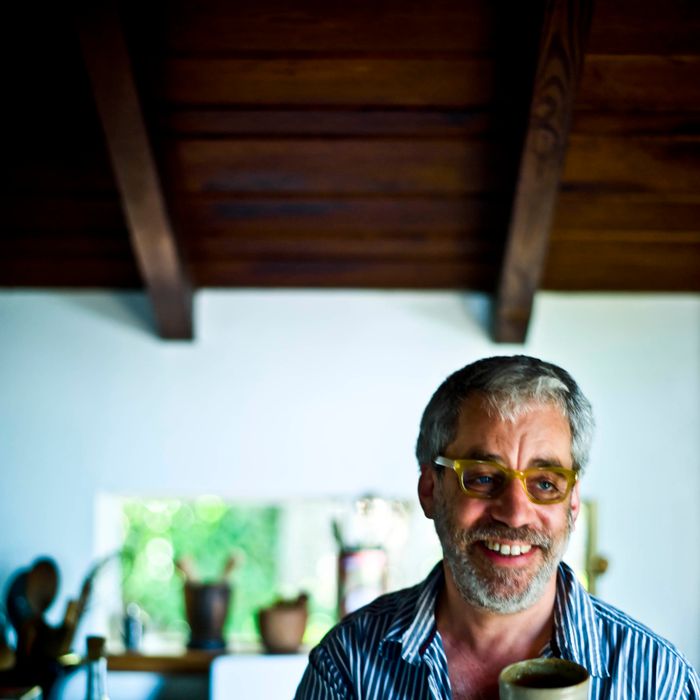 Tanis nesting in New York.
Photo: Joe Vaughn
If we spent six months of the year in the weeds at Chez Panisse, and the other six months throwing lavish supper parties for strangers in Paris, plus just banged out two cookbooks in under three years, we'd want to come to New York City with a board of cheese and a bowl of tangerines and crash hard-core, too. Well, that's exactly what David Tanis is doing, whether Jay Rayner likes it or not.
In this weekend's Guardian, Raynor interviews the self-possessed chef from Tanis's temporary sublet in Greenwich Village, where he and his partner are living for a few months to decompress, eat artichokes, not go to restaurants, but maybe throw a few low-key dinner parties — like the one Rayner observed while wondering why the hell these guys, who could be spoiled rotten at any hot spot in the city, are adamantly eating in every night.
But that's what Tanis wants. Of course, he is living in modern artist Bruce Nauman's building, and the dinner guests were comprised of a famous art dealer and a jet-set fashion writer, but the mood was decidedly unfussy. "The rule is you only need to serve one hot course," says the chef. "It's good to be able to do cooking the day before."
True, but we can't help but wonder: At what point would he make the corn?
David Tanis's New York Supper Club [Guardian UK]
Setting Kernels Loose in the Heat of the Summer [NYT]