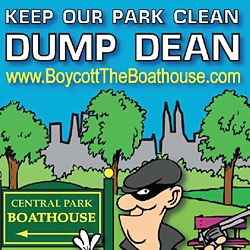 As mentioned, employees of Central Park Boathouse walked out earlier this week amid a labor dispute with owner Dean Poll (the Daily News has more good details on the specifics). Well, now a tipster writes in to tell us that not only are workers striking, but they're handing out pamphlets (more than 25,000 distributed so far) that provide advice on other nearby restaurants where would-be patrons might want to dine.
"There are thousands of restaurants in New York. Here are a few in and near the park. Please don't go to the Boathouse," the flyer urges. It suggests instead spots including Burger Joint, 5 & Diamond, and Rouge Tomate, which are handily categorized under headings like "American," "Indian," or "NYC Classics." The paper also contains a map of the park, which might explain why "this is the first thing we've ever given out at a picket line that doesn't end up on the ground," as one participant told our tipster.
The flyer also implores, in 21 languages, "Enjoy the park and help keep it clean. Please don't litter and please don't patronize the Boathouse Restaurant while we're on strike. Also, please help spread the word about the boycott. Thank you." And in English, it gives a timeline of labor and sexual-harassment complaints against Boathouse owner Dean Poll and other management. It's a clever move, for sure: Diners would seem much more likely not to cross pickets lines to get to the Boathouse if they have some alternative restaurant suggestions in hand. And it's a pretty decent lineup: Download your own version of the guide, and the map, below.
Boycott the Boathouse [PDF]
Central Park Map [PDF]
Related: Boathouse Workers Record Dean Poll's Anti-Union 'Threats'