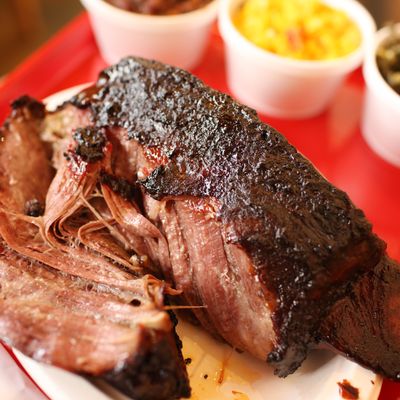 Meat, glorious meat, at Daisy May's in New York.
Photo: Melissa Hom
Everyone who cares about barbecue knows that the real stuff comes from "little shacks with huge smokers that burn down every couple of years," says Charlie Kleinman, the chef at Wexler's in San Francisco, known for its upscale take on barbecue. But over the last couple of years, it's gotten a whole lot easier to find good barbecue that doesn't reside on a country road; it might not be in the country at all.
There is now plenty of high-quality urban 'cue if you know where to look. That's a good thing for anyone without the time or means to hop in a car and drive across the South in search of nirvana-inducing smoke rings.
To put our Big City Barbecue list together, we turned to chefs, food writers, and journalists whose opinions we trust. We combined their picks with our own expertise to make choices in all of our Grub Street cities — New York, Boston, Los Angeles, San Francisco, Chicago, and Philadelphia — as well as the country's other major metropolitan areas (with a few classic, all-time favorite 'cue joints thrown in for good measure).
We're not saying these citified picks are better than the soulful shacks of lore. They're alternatives — places to feast on some of the country's best smoked meats when you can't get away. So check out the geographically organized results, and let us know in the comments which places make you happy to forgo dirt roads for asphalt, and shacks for skyscrapers, in the quest to quench your 'cue cravings.
Related: Pasta Porn: 101 of America's Most Delicious Noodle Dishes
50 State Dinners (Plus One): Food Treks Worth Taking This Summer