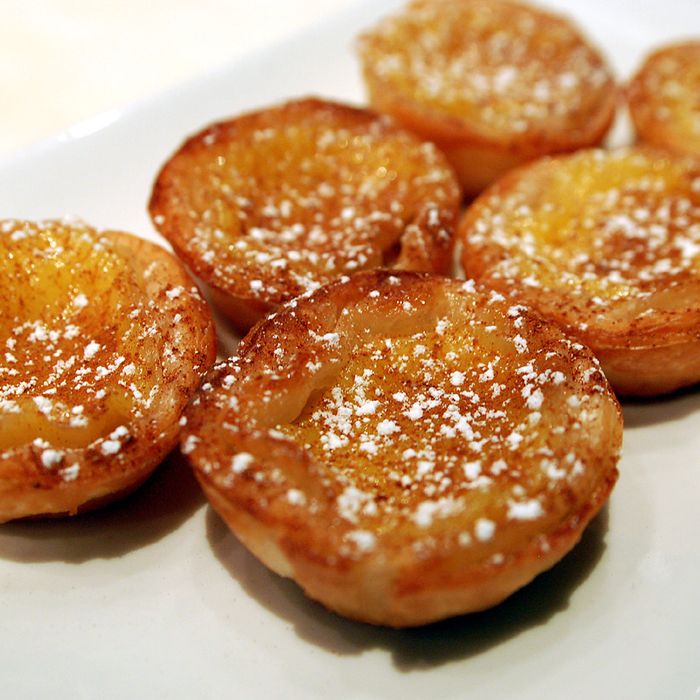 Pastéis de Nata (Portuguese custard cakes).
Photo: Michael Tulipan
During the hiatus between the closing of his West Village restaurant in 2009 and the reopening of Alfama in midtown, executive chef Francisco Rosa indulged his interest in bread-baking by taking classes at the FCI and CIA. After his sweet and savory creations were a hit with customers at the new Alfama, he decided to start selling his goods. Yesterday, the restaurant rolled out a bread and pastry kiosk where Portuguese breads are the specialty: There's half-corn, half-wheat broa, and coconut-crusted Pão de Deus, plus baguettes and brioche. The shop is situated in the restaurant's entry and is open from 7 a.m. onward, with coffee to accompany morning pastries. See the carb-loaded lineup below.
Pão de Bico Mini baguette (30 gr) - $0.35
Pão de Bico Small baguette (60 gr) - $0.65
Sunflower & apricot whole wheat roll (30 gr) - $0.45
Broa (300 gr) - $4.00
Thyme and olive boule (350 gr) - $4.25
Pão de Forma (1 kg-loaf, white) - $6.50
Brioche (80 gr) - $2.50
Pão de Deus "heavenly bread with a crust of sweet coconut" (80 gr) - $3.50
Mushroom, arugula & shallot focaccia (100 gr) - $2.50
Pastéis de Nata (Portuguese custard cakes) - $1.50 each, $9 for half a dozen, $18 for a dozen