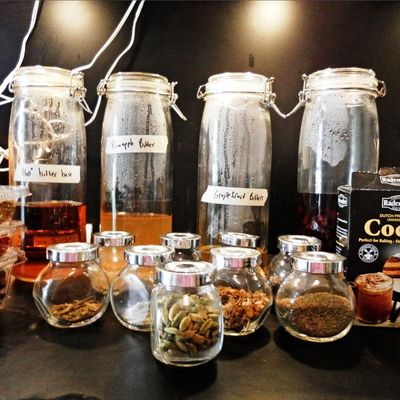 Part of Max Messier's cocktail laboratory.
Photo: Courtesy of Max Messier
When we last checked in on Gowanus cocktail spot Whiskey Tango Foxtrot, we weren't sure WTF to think. An easel on the sidewalk noted modestly that "the future of cocktails" was coming soon to the space, located next to pie HQ Four and Twenty Blackbirds. Now, its proprietor Max Messier wants to set the record straight: "Whiskey Tango Foxtrot is the full name," he says. "It's not W-T-F. I just call it Foxtrot." Fair enough. "Foxtrot" is now on track for an early fall opening. It'll have 75 to 80 seats in all, and guests will — wait for it — order with iPads, using a comprehensive app designed by Messier.
Among the scrollable menu categories are seasonal cocktails and a digitized "bartender's choice." You pick a spirit, say rum, and then tell that iPad how you're feeling. Happy? If you're content and you like gin, the bartender will know what to do.
The bar itself spans 35 feet and will serve as the base of an impressive, vertiginous array of bottles that sounds as if it will be a representation of every kind of liquor and spirit known to man — he was inspired by a similar back bar at Bar Cure in New Orleans. "It's a golden age of distilling right now," he says. "There's so much beautiful, batch stuff being produced."
But despite a cocktail list that will include housemade ingredients and ambitious drinks — the Peckinpah's Dilemma is roasted-grapefruit-infused mezcal, ice lapsang souchong tea, and lime syrup — Messier says he's not going to do anything too crazy: "I'm not going to say [the drinks] will be simple, or clever. We want to produce a great product so we spent a lot of time on the back end. Molecular drinks are awesome, they're just not what I'm looking for."
Whiskey Tango Foxtrot, 433 Third Ave., Gowanus