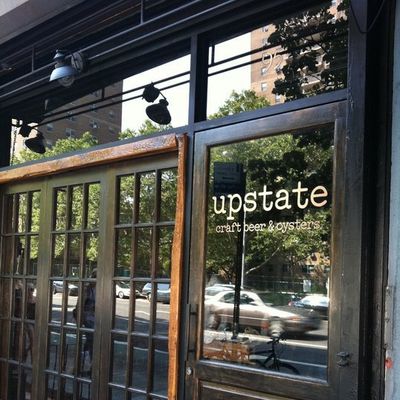 The restaurant takes over the Permenant Brunch spot.
Photo: Courtesy Upstate
A new raw bar and craft-beer-focused restaurant called Upstate has soft-opened on First Avenue in the East Village. Co-owners Shane Covey and Jennifer Gavin say they're not yet totally up to speed, so they're currently focused on selling icy cold beer, shucked oysters, and whiskey cake — hell, that sounds like it'd be a pretty good permanent format, if you ask us. As if to slough off the karmic debacle endured by previous tenants Steak Shoppe/Permanent Brunch, Covey and Gavin stripped the dining room down to its bare walls, leaving exposed brick on one side and covering the other with reclaimed barn wood from upstate (where Covey is from and whence the restaurant gets its name). The new bar is made from dead standing timber (again, from upstate), and French doors have been installed across the front of the restaurant to open things up a bit.
Co-owner Shane Covey turns out to be a classically trained actor with two MFAs. He also worked at now-closed Shaffer City Oyster Bar, where he got to taste all kinds of oysters. The restaurant will sell a rotating selection of East and West varieties.
Outside of the raw bar, the 700-square-foot restaurant will be focused on beer-friendly seafood like mussels and frites. Small plates consist of charcuterie and cheese. The house burger comes with potato chips made by the kitchen; a pared down late-night menu will also be available, and for dessert, Upstate serves whiskey cake.
Gavin describes her chef-husband as a proper "beer geek" who insists on serving each brew in its proper glassware, even at home. The restaurant has eight taps; the starting lineup includes 21st Amendment Brewery's Back in Black, Keegan Ales Mother's Milk Stout, Southampton's Biere de Mars, selections from Kelso of Brooklyn, Empire Brewery, and Captain Lawrence.
Upstate, 95 First Ave.