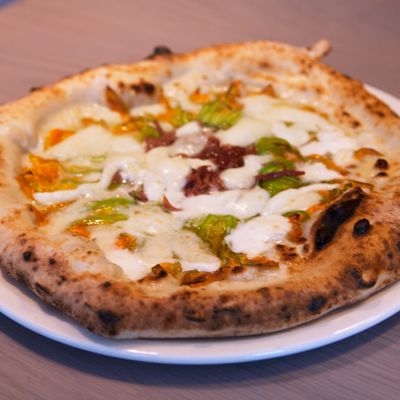 The PizzArte: zucchini blossoms, speck, burrata.
Photo: Michael Allin
Last week we brought you word of PizzArte, and today in honor of the pizza shop's opening (right this minute, in fact!), we have the menu. There are pies, of course, like the gorgonzola-and-truffle-topped Tartufata; and the classic Margherita we told you about earlier. There's also a snacky selection of stuzzichiere (meatballs, octopus), and a variety of salads and pastas. Hours are 11 a.m. to 11 p.m. daily.; for now, PizzArte is cash-only, but there's a 10 percent opening discount.
PizzArte Menu [PDF]
PizzArte, 69 W. 55th St., nr. Sixth Ave.; 212-247-3936