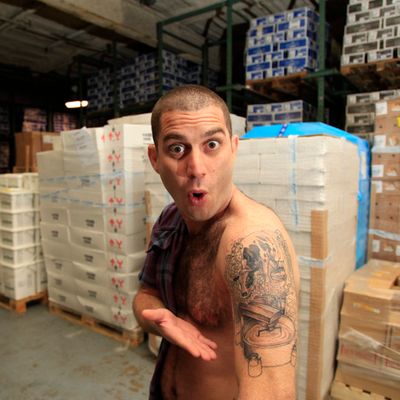 This man can cut a rug, and cut the curd.
Photo: Anthony Delmundo/Courtesy of Adam Moskowitz
If thoughts of Brillat-Savarin and Époisses don't also immediately conjure up images of hard-partying cheesemongers, know this: Last year's inaugural Cheesmonger Invitational, held at Larkin Cold Storage in a desolate corner of Long Island City, apparently started quietly enough with some blind tastings and a cheese-wrapping contest. But the night evidently ended like some giant, out-of-control warehouse dance party you might see in an eighties movie about a mythological New York that doesn't actually exist, only with more cheese. So, yes, tomorrow night's Cheesemonger Invitational is sold out, but the event's organizer tells us that there are plenty more cheesy parties to look forward to.
That's right: If the idea of such rowdiness and unabashed spirit of the curd has just awoken a steady flame inside your triple-cream-addled heart, one that will burn on long after this blog post is read, Invitational mastermind Adam Moskowitz (who is also CEO of Larkin, the major cheese import hub in the U.S.) would like to let you know that there are more parties on the horizon.
Moskowitz has been described by one fellow cheese expert as the Hulk Hogan of cheese. And he plans to hold at least three more parties over the next nine months. First up will be Rockin' Raclette, with ooze, gherkins, potatoes, and loud music.
Next up will be the the Cheesy Sammy Slam, whereupon participants will not only have to challenge other competitors with the sheer culinary ferocity of their cheese sandwiches but will also have to recite a poem about them.
Finally, guests of the Faux Fur Fondue party will wear fake fur and dunk into caquelons set up inside an enormous walk-in refrigerator. "We'll all dance," says Moskowitz, whose dairy-themed bicep tattoo was also featured in the summer issue of Culture, the cheese magazine. Details about all of the parties are still coagulating, but for now, you can get on the Cheesemonger Invitational's mailing list through the official website — although if you're holding out for the Faux Fur Fondue party, it's being planned for warmer weather, next year after the thaw. Why? "Because dressing up in fake fur, eating fondue, and dancing inside a refrigerator just doesn't make sense during the winter," says Moskowitz.
Cheesemonger Invitational [Official site]