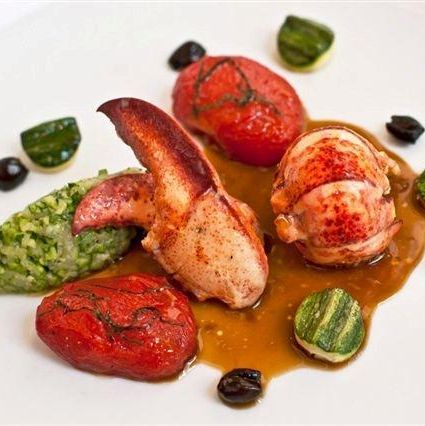 Oceana's poached Fourchu lobster with tomato confit and zucchini.
Photo: Noah Fecks
Maybe all that culinary-school tuition isn't a waste after all: A rep from the International Culinary Center (né the French Culinary Institute) says the school has secured a shipment of Fourchu lobsters. What makes the lobsters special? Well, they come from some exceedingly cold water in Nova Scotia — the lobsters' New York distributor tells us that these sweet babies can only be harvested between the relatively warm months of May and July.
The colder water means the meat itself is firmer than something like Maine lobster, and it also has a different flavor. As this 2009 Departures story says, "Just think about the difference between a soft, sweetish Gulf Coast oyster from the warm Louisiana shallows and a briny, complex-tasting, firm-fleshed Belon from the chilly North Atlantic."
If that sounds good to you — it sounds good to us — know that the International Culinary Center is hosting a Fourchu dinner at L'Ecole (the school's restaurant) on August 2. You can reserve a table by calling 212-219-3300. The prix fixe dinner will run you $47 per person.
But what's that, you say? You want to eat these fancy lobsters tonight? No problem: We asked the distributor where else one might be able to find them. He happily told us who else was getting them, and the very short list of places really only serves to reassert the fanciness: Blue Hill (both the NYC location and Stone Barns) and Oceana. We called to double-check, and both Blue Hill and Oceana confirmed that they've got Fourchu on the menu tonight. It will run you $45 at Oceana and at Blue Hill's Manhattan location; it's part of the tasting menu at Blue Hill's Stone Barn location, for anyone lucky enough to have a reservation there tonight.