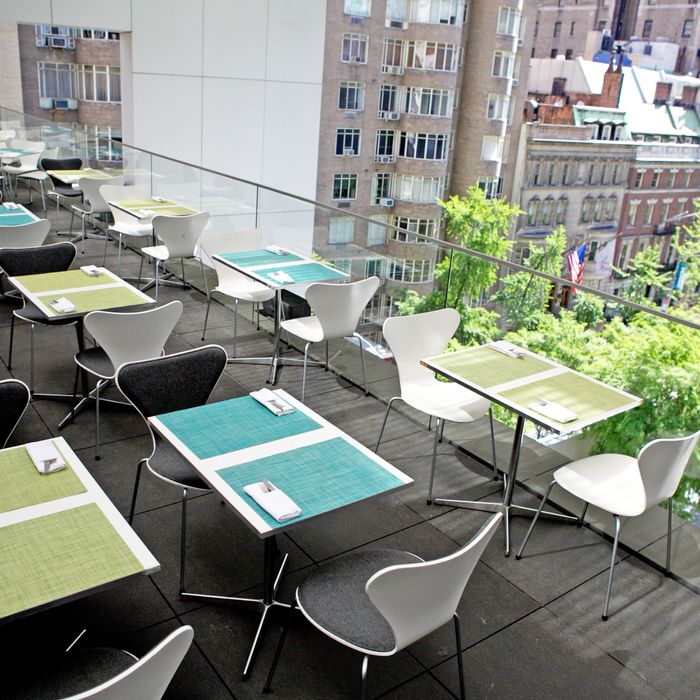 Terrace 5.
Photo: Courtesy Union Square Hospitality Group
Add one more to your list of places food has infiltrated: MoMA. In advance of an upcoming exhibit devoted to the relationships between people and objects, on Thursday the curatorial staff at MoMA will hand over the Cafe 2 bakery department to an object known as the Baker Box. Whenever a new batch of bread or cookies is fresh out the oven, an employee will press a button on the wall-mounted unit, sending a tweet to the rest of the world to come and get it. The Baker Box was created by London firm POKE in order to capitalize on a neighboring bakery's output; the underlying idea is that technology helps make sure you get your hot cakes when they're hot. Follow momabakertweet to find out more about this Thursday's schedule of baked goods at Cafe 2. No doubt someday soon every oven will do this.
Also happening on Thursday (and every Thursday this summer) at MoMA's Terrace 5 café is a nice summer picnic overlooking Abby Aldrich Rockefeller Sculpture Garden. The $32 price tag includes antipasti, sandwiches, chips, and and seasonal desserts like strawberry-rhubarb pie; live music wafting in from the garden below comes at no extra cost. Summer picnic seatings are at 5 and 7 p.m.; reserve yours via e-mail.
MoMA [Official site]