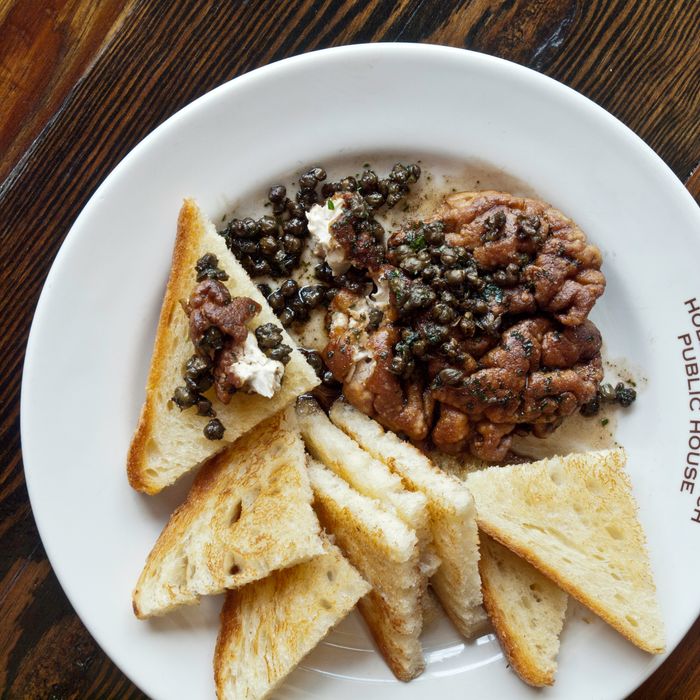 The veal brains at Holeman & Finch.
Photo: Angie Mosier
On each edition of the Food Chain, we ask a chef to describe a dish he or she recently enjoyed. The chef who prepared the dish responds and then picks his or her own memorable meal. On and on it goes. Last time, Ashley Christensen at Poole's Diner adored the anchovy pizza at City House in Nashville. Now we want to know what's been City House chef Tandy Wilson's favorite recent bite. Tandy?
Who: Tandy Wilson, chef-owner of City House in Nashville
What: Veal brains with black butter
Where: Holeman & Finch Public House, Atlanta
"There's a little lemon. It's a little bit of a — I wouldn't call it a bruschetta, but a nice toast beside it, and it's about half of a loaf of a veal brain; and there's a little bit of a parsley salad, I believe. The brains are cooked just through in that butter and they're so tender.
They really have the texture of perfectly scrambled eggs. They have this lovely, just meaty but really light flavor as well. And — I hesitate to use this word because a lot of palates haven't gotten there yet — but the perfect amount of bitterness. To me, it was to die for.
The thing about Holman & Finch is it is a public house. You're sat with other people. Greg [Best] does an amazing job with cocktails. You just sit down and start ordering food. The brains are just super simple — they sound crazy, but it's just super-simple, delicious food, well thought-out and well executed."
Holeman & Finch chef Linton Hopkins responds:
"We prepare them very similar to sweetbreads, just to firm them up and pull off any egregious membrane. We do a very simple pan sauté on it. We season it well, dust it with flour, sauté it till it's golden brown and puffy on the inside. Out of the butter we make a good beurre noir — we throw in capers, lots of parsley, lemon juice, and salt. We pour this butter over the top and we make a toast out of this semolina bread. It's a simple dish. They're great brains; they're fluffy and wonderful."