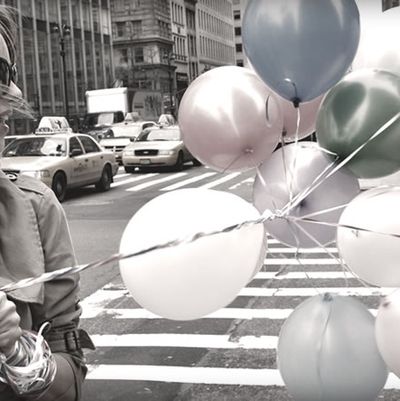 Steve's Craft Ice Cream: oh so sophisticated.
Photo: Courtesy Steve's Craft Ice Cream
In 1973, a former cabbie and schoolteacher named Steve Herrell changed the world, apparently, by opening a Boston ice cream store that offered customers chopped candy bars and cookies folded into their ice cream. Six years later there were hundreds of Steve's around the world, including one in Greenwich Village that had two seats, 44 flavors, and a 45-minute wait out the door. Though Herrell had long left the company, he had become legendary; a somewhat skeptical Gael Greene called him "the sainted missionary of the mix-in" in our own New York Magazine. Cut to 2011. A man named David Stein who worked for the company that operated Steve's as a corporate brand has relaunched Steve's Ice Cream as "Steve's Craft Ice Cream" (see what he did there?).
Stein tells The Wall Street Journal that, taking full advantage of the artisanal-food revolution, the two "resurrected" Steve's locations (one at 4 East 42nd Street and another opening soon in the old Atlantic Avenue Blue Marble space) have gone all locavore with the mix-ins. Out with the Oreos and the Snickers, in with the Kombucha Brooklyn and Taza Chocolate. Not only that, the sundaes won't simply be made, but also "curated and composed," says Stein, the whole thing overseen by a team of chefs. "Instead of letting the customer walk up to the counter and invent a flavor," Stein tells the WSJ, "we want to say, 'Hey, let us teach you something about flavors.'" So, the chopped up candy bars are gone, and now it's chefs and craft food. For better or worse, that's less of a resurrection and more of a literal gut renovation.
The Resurrection of Sweet [WSJ]
Earlier: Steve's Ice Cream Comes to Brooklyn