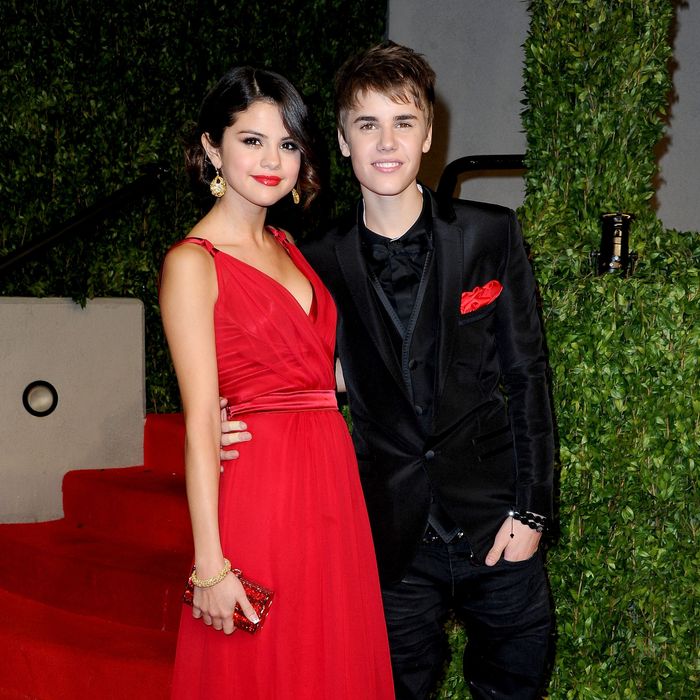 Justin Bieber and Selena Gomez, all dressed up.
Photo: Pascal Le Segretain/Getty Images
Couples! They're everywhere. For proof, look no further than Sant Ambroeus, which hosted at least two celebrity lunch dates this week. Midtown witnessed its share of romance as well, particularly of the Bieber variety. But, unsurprisingly, beach-side canoodling was especially popular this week, as pretty much every food-having place in the Hamptons can attest. Lots more celebrity sightings straight ahead.
Bobby Van's: Cameron Diaz was met by Alex Rodriquez and the "two flamboyant men" he brought with him. [Gatecrasher/NYDN]
Imperial No. Nine: Penn Badgley kicked off his Independence Day Night here, where he filled up before heading upstairs to watch the fireworks. [Page Six/NYP]
La Fondita: Liev Schreiber and Naomi Watts brought the kids out for dinner. [Hamptons.com]
Nick & Toni's: Ethan Hawke and Ryan Shawhughes dined with six friends on the outdoor patio. [Hamptons.com]
Nobu: Gordon Ramsay "surprised" (terrified) the staff of Nobu's new Southampton branch by popping into the kitchen unannounced. Courtney Love was also there, somewhere. [Page Six/NYP]
Sant Ambroeus: Russell Brand and Katy Perry were seen hugging during their midday meal, which preceded a photogenic bike ride through Central Park. [Star Pulse]
Later in the week, Lea Michele and boyfriend Theo Stockmanare came in for a lunch date of their own. The pair was later joined by the Glee starlet's mother, Edith. [Celebuzz]
Shun Lee Palace: Orange-complectioned House Speaker John Boehner sat down for a group meal. [Page Six/NYP]
Siam Inn: Totally normal couple Justin Bieber and Selena Gomez held hands, talked Transformers, and discussed dentistry over Thai rolls and rice. [Gatecrasher/NYDN]
STK: Kirstie Alley was seen eating at the restaurant's newly opened rooftop deck. [Us]
Turtle Crossing: Liev and Naomi left the kids … somewhere and grabbed pappardelle, beet salad, and frozen margaritas with fellow adults. [Hamptons.com]