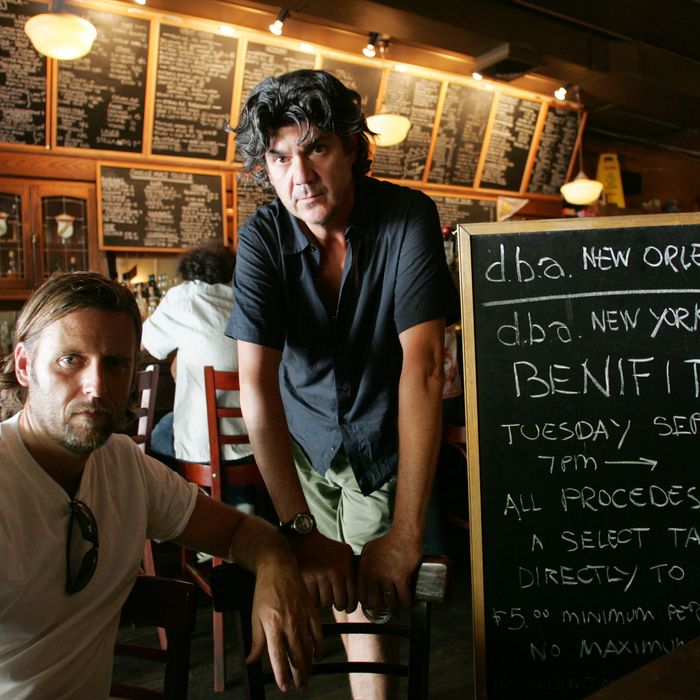 Deter.
Photo: Hiroko Masuike/The New York Times/Redux
Everybody loved Ray Deter, who was hit by a car on Canal Street while biking to the bar he co-owned, d.b.a., on June 28 and died on July 3 at the young age of 53. He was great to drink with. He was especially great if you wanted to discourse happily on whatever it was you were drinking. In our culture of unmindful, often solitary alcohol consumption, he was the most public-spirited of barkeeps. He was, for many of us, New York's premier publican.
I first saw his name in the early nineties on a beer-geek board on CompuServe: He wrote that he was opening a beer bar and wanted input from fellow enthusiasts. Ray, we would come to learn, was married to a lovely and tough British woman, Catherine Lepp, and his eyes — and palate — were opened up traveling around her native land drinking "real" room-temperature, cask-conditioned ale and getting a taste of pub life. Trips to Belgium would follow and the affair with beer began in earnest. The way he talked about his awakening to the "good stuff" — his website was drinkgoodstuff.com — was so giddy and boyish that he'd leave you panting for a taste of something good. This was going to be an adventure, he promised.
Beer-wise, things were different back then in New York. Other cities, from Portland, Oregon, to Portland, Maine, had beer bars and first-rate brewpubs, but the Big Apple, with its high-priced real estate, was a relative desert. People thought the Peculier Pub, which had no taps and foreign beers that tasted past their sell-by date, was a beer bar. People thought McSorley's Ale House was a place to drink good beer. (The beer was good for trapping garden slugs.) We had the variable Manhattan Brewing Company on Broome Street and, briefly, a New Amsterdam brewpub in what was then a hooker-and-warehouse district on the west side. We had good lagers at Zip City in the Flatiron district, but it wasn't a place to sit and kvell. Retail was no better. A guy named Hercules had a nice little deli with good beer on Christopher Street, but a lot of craft brewers simply didn't brave the New York market. I'd take the PATH to a Hoboken Price Chopper to get Sierra Nevada, which was often sold out. Otherwise, you drank Bud or stale old oxidized skunky foreign lagers and muted English ales that were probably wonderful on draught but didn't survive the sea voyage.
Did all this matter to anyone outside some pudgy beer geeks and high-functioning drunks with too much money? Yes. A lot. Beer was also a symbol. At the turn of the last century, there were around 4,000 breweries in the U.S., a quarter in New York City. Prohibition wiped out half and the rest were slowly driven out of business. After World War II, national highways — and national advertising — meant a new national market. In the same way people marveled at vegetables in a can instead of vegetables from the farmer a few miles away, people liked getting their beer from Milwaukee or — God help us — Amsterdam. By the seventies, there might have been 50 breweries left, and, with the exception of Fritz Maytag, who (being an heir to Maytag fortune) could afford to lose money with San Francisco's Anchor Brewing, it was watery lager after watery lager. You forgot that there were scores of styles of beer, that brewing was an art as well as a science.
Then everything changed. Under Jimmy Carter, Congress legalized home-brewing for the first time since Prohibition. State by state, laws were changed to make it possible to brew and sell on premise, and the modern brewpub was born. A bicycle repair guy and home brewer in Chico, California, named Ken Grossman could make the kind of floral, Cascade-hoppy ale he liked to drink and create a new American classic: Sierra Nevada Pale Ale. And you could explore this new world in Vermont and Maine and Massachusetts, in Philly and Baltimore — almost everywhere but New York City.
Ray Deter set out not just to give geeks like me a place to taste, but craft brewers a home in the most influential of all American cities. They'd come with beers that weren't legal to sell in New York, and Ray, the chummy host, would poor them for people who happened to be around. Like me, increasingly. Actually, I walked into d.b.a. the first night it was in business, when it was empty and didn't even have a name. (I advised Ray against d.b.a., which sounded like a non-name, but he had a long and dull story about how it stuck.) If it was late and you were lucky, he'd pull out bottle after bottle of rare beers and pour them attentively: Get a load of this one!
After a while, the blackboard would advertise not just the names of beers and when they were tapped but also future tastings. Mondays would bring informal classes on whisky (Scotch) or whiskey (American and Irish) and other spirits. Craft breweries would cart in their whole line of products to pour — among them the pioneering folks at Brooklyn Brewing, Steve Hindy and Tom Potter and their loquacious brewmaster, Garrett Oliver. The royalty of the beer world, from foreign brewers to the late, menschy Englishman Michael Jackson, would arrive to be fêted by the audience they cared about most. And Ray, the ambassador, would be in the middle of it all, eyes shining even when glazed.
I spent many nights drinking until four and beyond with Ray and his often agreeably swacked partner Dennis, and my family and I once went out with him and his wife and two sons to Katz's after a live-online Scotch whisky tasting for Slate. But I didn't know him well. He had a way — with me, anyway — of being both accessible and slightly abstracted, elusive. At d.b.a., of course, he had reason to be distracted. His eyes roamed the room. He'd settle in and then jump up to haul a barrel from the cellar or adjust a tap line or greet another friend or fan. Cathy'd want to know when he was coming home. He was wiry and wired. Like the rest of us, he overdid it. But then he'd walk in after a fourteen-day cleanse looking marvelous. He was tall and handsome and floppy-locked, on a kind of nerd-dreamboat border that made him appealing to just about everyone. I wish I'd known him better.
I sometimes wished aloud that d.b.a. were bigger, with less-disgusting bathrooms, and that you could get something to eat. But Ray wanted no part of running a restaurant ("Do you know what it takes to maintain a kitchen?" he'd ask) or exploring the world of wine. (He didn't want to shell out for a system to keep a lot of bottles fresh.) And the bathrooms were what they were. We disagreed about the anti-smoking laws — Ray hated them. Although d.b.a. can be lovely with its candlelight and copper tabletops, it got very popular very fast and wasn't — and isn't — especially pleasurable on weekend nights. As the years went by, I found it positively unfriendly without Ray or Dennis in the house. I stopped going maybe three years ago. There were other places now.
That was idiocy, a mistake. I always figured I'd go back, that there was all the time in the world. Ray was in his element now. He opened d.b.a.'s in New Orleans and Williamsburg and often co-hosted a podcast called Beer Sessions Radio. He wasn't, he said, getting rich, but he was supporting a wonderful family doing what brought him joy. He was a fixture.
He told his wife that his head was too big for a bike helmet, a line so tragic on so many levels I can't begin to parse it. Reportedly, he made a left from the right side of Canal — a street I fear crossing on foot — and got slammed by a Jaguar. He was given last rites at the scene but somehow held on. His family put out word for people to stop calling and coming to the hospital. For three days, a lot of prayers were said. But it was pretty much over the moment his head hit the pavement.
I've read that we should raise a glass to Ray's memory filled with one of his favorite beers, something from England or Belgium or Pennsylvania. But I can't bear the thought of drinking to him instead of with him. And I'm angry, too, about the decades without him to come. Thank you, but I'll mourn Ray Deter soberly.
Previously: D.b.a.'s Ray Deter 'Passes On'