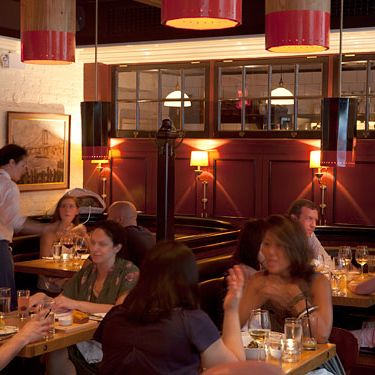 The scene at the Dutch.
Photo: Michael Allin/New York Magazine
In next week's New York, restaurant critic Adam Platt heads to the Dutch to weigh in on Andrew Carmellini's Soho hotspot. The verdict: There's much to like, especially the desserts, and especially at lunchtime "when the noise level in the tiny rooms softens and the restaurant takes on a low-key, even neighborly feel." But hold on. The bars and dining rooms — there are multiples of each — are cramped, some of the food is a letdown (in particular a lamb neck served with "sludgy, tar-colored mole sauce" and a "livery and undercooked" dish of squab and smoked foie gras), and the whole place, per Mrs. Platt, feels like "a hipster theme park." So maybe there's even more incentive to make the restaurant's oyster sliders for yourself.
More Burgers and Bourbon [New York Magazine]
Related: Make Andrew Carmellini's Oyster Sliders at Home