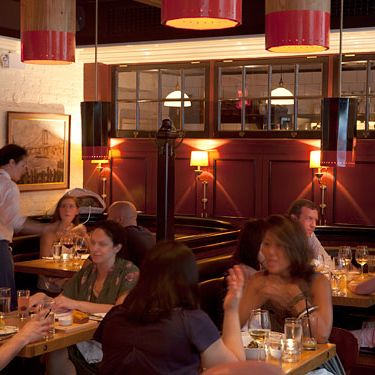 The scene at the Dutch.
Photo: Michael Allin/New York Magazine
In this week's New York, Adam Platt heads to Andrew Carmellini's ultrapopular Soho spot, the Dutch. As we told you previously, he likes some of the dishes, but doesn't necessarily find the spot to be the end-all be-all its hype may have led you to believe. In the end, he gives the spot two stars: "One star for the impressive range of nouveau comfort food and one for the pies."

Platt then heads uptown to hit a different kind of scene at the Leopard at des Artistes. He says the restaurant is fine, but not because of the expensive, "uneven, fairly rudimentary Southern Italian grub." Instead, it's the excellent star-watching — Woody Allen, Steve Martin, and Lloyd Blankfein are all in attendance — that makes the eatery worth popping into.
Meanwhile, the Underground Gourmet finds yet another scene at the Beagle, this one of the late-night variety. The "effortlessly cool" restaurant's concept of pairing specific cocktails to small plates works, especially in a "superb roasted-lamb-neck-and-Preakness-cocktail combo." Boldfaced names on hand: Dan Barber and Jim Meehan.
Finally, culinary editor Gillian Duffy beats the heat with a refreshing In Season cucumber drink from Rouge Tomate. The vodka is optional, according to the recipe, but it certainly seems like a necessary ingredient according to common sense.