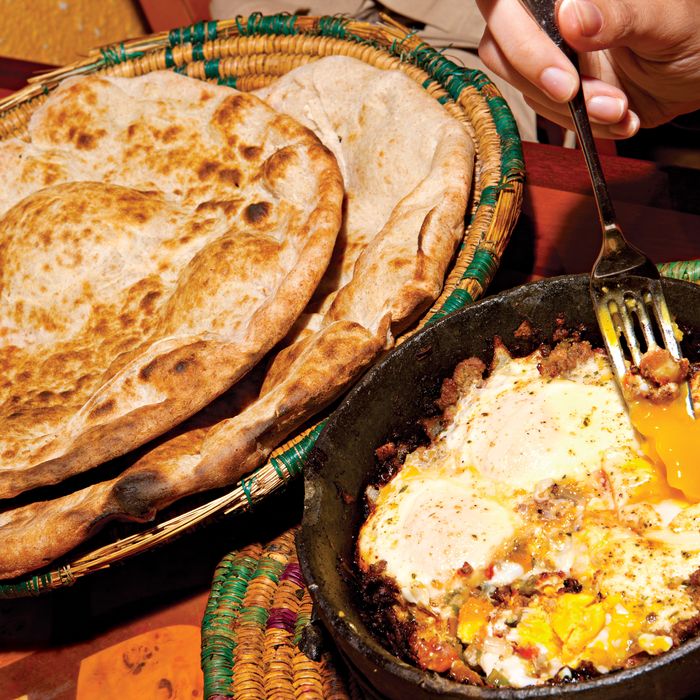 Affordable fare at Bab al Yemen.
Photo: Danny Kim
This week, Rob Patronite and Robin Raisfeld take on cheap eats, with a roster of the best new places to get edible return on your dollar, including soba shop Cocoron, "gastroteque" Buvette, and a newly crowned "Best New Cheap Eats Joint." The Robs also name the best new on-the-cheap cuisine, call out the "Not-Exactly-Cheap-But-Worth-the-Splurge Turkey-Sandwich Revolution." Plus: Your guide to affordable alfresco eats at the city's various markets and stands, and more.
Appropriately, the cheap issue also takes a look at Queens, where a smorgasbord of delicacies goes for not much dough. See the "Devouring Queens" guide for the best Queens Italian, a slideshow of the borough's meats, a Flushing food-mall crawl, and a kitchen tour of M. Wells.
You'll also encounter a profile of Eataly "vegetable butcher" and food artist Jennifer Rubell. And don't skip the "Baller's Booze List," the quirky lineup of cocktails for the Meatball Shop in Williamsburg, which opens this week.