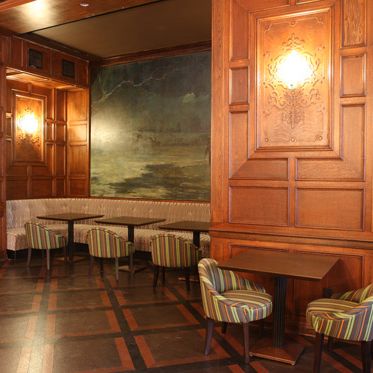 The Oak Room after its relaunch.
Photo: Hannah Whitaker
After its recent run of bad news, the Oak Room at the Plaza is closing following service tonight. The sad, brief history: The place relaunched in 2008 after extensive renovations and a restoration of its dining room with acclaimed Atlanta chef Joël Antunes, who left after pans from Frank Bruni and New York's own Adam Platt. For a while, things seemed to be getting back on track, then there was the impromptu after-dinner Lady Gaga performance, the ill-advised cocktail named after Mel Gibson, and of course, the lawsuit stemming from out-of-control parties for bottle-service people with lots of cash.
Most recently, there was also that sexual-harassment lawsuit filed by the restaurant's former pastry chef, against former executive chef Eric Hara. The Times stops by to down one last drink at the bar, where the inventory is quickly running out, before quoting a rep from the Shops at the Plaza who says they're "in serious negotiations with a noted New York restaurant operator and expect an announcement soon."
A Last Call at the Oak Room at the Plaza [City Room/NYT]
Earlier: 'Monster Boss' Eric Hara Sued by Former Oak Room Pastry Chef