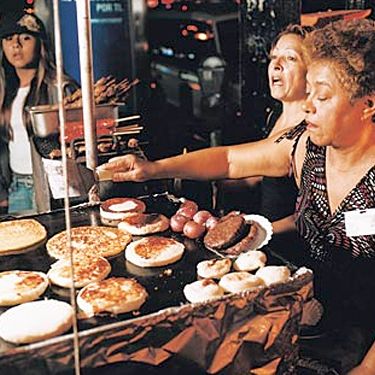 She's off to San Francisco for a few days.
Photo: Ben Stechschulte
Word on the street (ha) is that the "Sainted Arepa Lady" of Jackson Heights will be going to California for a few days next month, and she's taking her spatula with her. Last week, the popular vendor tweeted mysteriously, "Not out tonight, sorry! Oh soon to sell arepas in San Francisco, CA for a day?" So what gives?
First of all, the Arepa Lady (whose real name is Maria Piedad Cano; friends call her Piedad) is on Twitter. Second, it turns out she is indeed headed to the City by the Bay: The Arepa Lady will be a guest (joining New Yorkers Francis Lam and Devi's Suvir Saran) at the second annual National Street Food Conference.
How did conference organizers get in touch with the beloved, albeit notoriously hard-to-contact, vendor? Margarita Rojas of La Cocina tells us they had been trying for months to offer the Arepa Lady a plane ticket to San Francisco and the opportunity to participate in the conference. After weeks of unreturned e-mails and other dead ends, Vendy Awards managing director Helena Tubis found Rojas a phone number. "Unsurprisingly," says Rojas, "Piedad had not received our initial e-mails and was completely shocked at the offer to travel to San Francisco to sell her arepas. She was at a loss for words and unconvinced it was a legit offer. After speaking to her son, she was finally convinced we were for real and started worrying about being able to find all of the necessary ingredients on the West Coast. After several phone calls, Piedad was finally sold on the idea of traveling to San Francisco and gracing the Bay Area with her presence and her ooey-gooey arepas. La Cocina is thrilled to have her on our Street Food Festival because she is an inspiration and a legend."
The second annual National Street Food Conference takes place August 21 and 22. If you're looking for an arepa fix those days, you can always try your hand at home using the Arepa Lady's own recipe.
National Street Food Conference 2011 [LaCocina]
Earlier: How to Make the Arepa Lady's Arepas, Care of the Forthcoming Food Trucks Cookbook