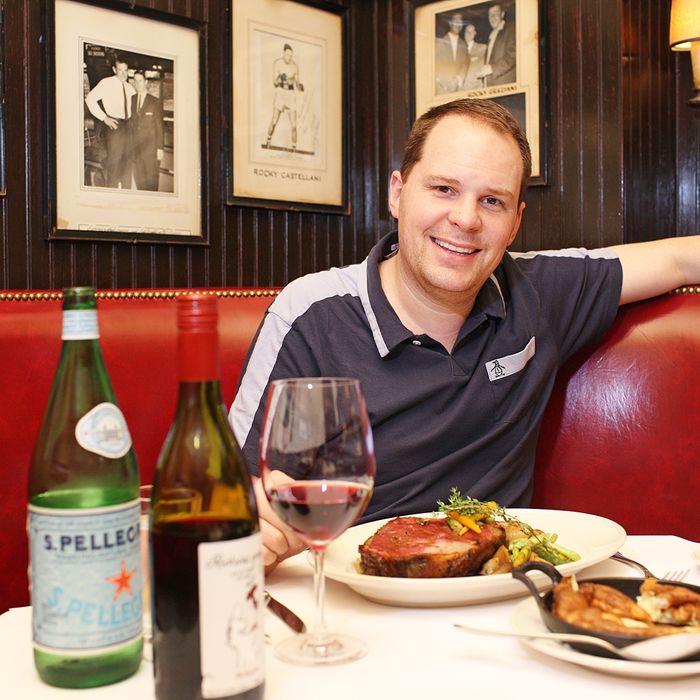 Pastore, digging into (what else?) some meat, at Minetta Tavern.
Photo: Melissa Hom
"Most people say to me, 'you eat out more than anyone I know,'" says Pat LaFrieda Meat Purveyors president Mark Pastore. And he doesn't deny it: "My uncle calls me 'the entertainer,' and it's true. It's my life." Pastore generally dines out five nights a week, usually Monday through Friday. "Real New Yorkers don't go out on weekends anyway," he asserts. And with LaFrieda supplying more than 900 restaurants in New York, he's usually dining in the restaurant of one client or another. "I'll always get force-fed something," he laughs. The meat maven tries to eat lightly at breakfast and lunch, but all bets are off in the evening. He admits to exhaustion, but Pastore certainly isn't complaining: "I've met some of the best friends of my life around the dinner table, I've made some of the biggest deals of my life around the dinner table, so it works for me. Nothing in life would be more tiresome than eating and drinking if God hadn't made it a pleasure to do as well." See where his whirlwind week took him, in our latest New York Diet.
Friday, July 8
Friday morning, I had a protein shake, because I've been working out. My doctor told me if I didn't lose weight and exercise, I was going to drop dead by 50. So that was motivation for me to take action.
After that, I had a couple of meetings downtown. I ran into Foodparc. They now have a salad stand, which is one of the better contributions Jeff [Chodorow] has given us there. I had a great salad with some sliced steak over it. It was protein, it was exactly what I wanted. It was really light and had a lot of flavor. I forget the name of the place, kind of a wacky name. [Quality Greens.] It's perfect because I live in that building. And then I did sneak over to Red Farm and I had an order of the dumplings — the pork dumplings, the spicy ones. And I must admit I only ate three out of six because I felt guilty on the third one.
I headed into the office and I had a yogurt in the afternoon. And I took a couple bites of Sun Chips that my assistant always leaves on her desk and I always steal — if she reads this, she'll know who's taking them.
My friend Ed came into town, who's one of the senior reps from Smithfield Pork. Ed is my Jewish friend in the pork business, as I always kid with him. I'll bring a lot of my vendors in and have dinner with them, and I find I can have some of the best times of my life. Over the dinner table it puts people at ease, rather than being a conference table. People say things to one another a little bit more casual. He wanted somewhere casual, he wasn't really dressed great, so I said you know what, we'll go down to Burger and Barrel. That's one of my little haunts, if I just want to throw on shirt and shorts and have a good burger.
For appetizers, we had the tuna tartar, the pork baby back ribs, the lollipop chicken wings, which are one my favorites. He does those special buffalo wings where nobody knows how he does them. And we did the corn ravioli. For mains, [chef] Josh [Capon] did the ordering. He came out and brought us a black truffle burger, which was sublime. It's not on the menu; I guess he was playing around with it. Of course, when I walk into a place, everybody always wants to feed me a burger, like I don't eat enough of them. He wanted us to try it. It was really, really, really amazing. We also had his Heritage Pork chop, and his fried chicken was great. We all shared. That's the best thing, is trying and sharing.
I was drinking an unsweetened iced tea. I usually always drink iced tea. There was a lot of liquor on the table, but that night I did not really drink for some reason.
He brought us out the ice-cream cones at the end of the meal, which come out on little stands — they looked like the Drumsticks we used to eat as kids. And I was very upset because I try not to eat dessert. It was temptation galore. I find it's the simpler desserts that really start to please me now.
There was late night after that, because we wound up staying at Burger and Barrel for a while. We walked across the street to Niko, which is Coby Levy's place on Mercer. And you know, it's hip and swank, and a good-looking crowd and he doesn't let anyone in. I was just going there to go see who was there, you never know what's going on there. Of course you get stopped at the door. He has a very strict door policy. We got up to the top and of course he's there waiting, dressed like something out of Mad Men. The place does look like some sort of swanky nightclub. I was drinking a honey vodka, which I absolutely loved. I got kind of lit on that; I was drinking about three of those.
Of course, you get hungry again. He sent out some fried chicken — he makes this amazing fried chicken. I don't know what he does to it. It's not really bone-in chicken, it's strips. It's an Asian version; it's just great. The tuna rolls he sent out — there was a raw tuna roll he had that was absolutely amazing, it was a hand roll stuffed with crispy kampachi, pickled onions, coriander, and avocado. He has some really good sushi. I'm not a big sushi guy, but if it's put in front of me, I'll eat it. After that I went home; I was exhausted.
Saturday, July 9
Woke up on Saturday late because I don't have to do gym Saturday and Sunday, so I love that. My friend crashed at my place and he wanted to eat, so he was like, "I want to go to the Dutch, I want to go to the Dutch." And I didn't even know that AC was cooking eggs, but it was one of the only times recently I haven't had to fight to get into the Dutch. I went in a little hung-over from the night before, so I was very bad: I had those flapjacks with blueberry syrup, which were awesome. He makes a black-pepper breakfast sausage; hometown potatoes, which is like his version of fries. I had a Bloody Mary, they were great. AC is another one who's a good friend of ours, we've followed his career from day one. Locanda is great, A Voce was great. I think the Dutch is totally something good. But it's the place where everybody's like, "Can you get me a resy?" I try not to get anybody a resy, because it gets … aggravating.
That night I had some chefs that were also friends who came in from Florida. I knew we were all going for steak, so I didn't want to eat too much. So of course I was walking around 44th Street and I see the bright lights — and I'm not talking about a Broadway show — it was much, much better: It was Shake Shack. I was like, "Oh boy, oh boy, oh boy." Whenever I go by them, I try not to, but I always duck in. I wanted to do one of my routine quality-control inspections, which is just basically an excuse for me to eat a cheeseburger. I ran in there got a quick Shackburger and I ran out. No fries, nothing; I just got a Diet Coke. It wasn't that bad of a line because it was mid-afternoon. It was about maybe a five- or ten-minute line. I try to get a burger that's unadulterated — to see what's going on, if it's cooked right, and everything like that. It just fits so nicely in the palm of your hand, it's like four ounces, it's easy.
Then I think we met up about 8:30 p.m. and went to Porter House New York. You can drop dead from eating there. That's why I tried not to eat very much during the day, except for the Shake Shack burger. That's some of the best steak in the city. It's beautiful. I call that my second office because I go there all the time. I consider Minetta and that two of the best for steak in the city. I always kind of judge: If they're heavyset people, I bring them to Porterhouse, because the chairs are bigger. Fat people don't like to go to Minetta because they get stuck in the corner.
We started with classics: We had wedge salad with blue cheese, somebody had the Caesar. I ordered the bone marrow, which is always good, and someone had clams casino. What I do at my table — it's what I call the Frank Bruni: "Switch!" Everybody eats a couple bites and then you switch the plates around. Which is always nice, because you get to try everything.
We had the porterhouse for two — Black Angus Prime dry-aged Porterhouse for two. We had an order of the lamb chops, and we had a bone-in rib steak, with all the sides to go with it. We had some creamed spinach, we had some hash-brown potatoes, we had some asparagus that was great, too — just fresh grilled asparagus. We did not want any dessert; we were all, basically, ready for explosion. And of course [chef Michael Lomonaco] sent us out a bunch of desserts, like four or five desserts, like he always does. Like a coconut-cream pie … an apple pie .. and sorbet. It's too much. It's too much after a point.
We went downtown to Schiller's, we met a couple of friends for some drinks. We probably got down there about twelve, we were there until about two. I just had a couple of Diet Cokes. I was ready to explode. That was it for the night.
Sunday, July 10
Sunday is a day that I eat one meal a day, and it's usually a big brunch, my favorite meal of the week. I'll do it at the Breslin, I'll do it at Isabella's uptown. My favorite brunch in the city is at Minetta Tavern; it's my favorite go-to spot for dinner as well. I sit in the corner booth and I have my Bloody Mary; I have fresh-shucked oysters with the little sausages over them. And believe it or not, what did I eat of all things? I ordered the prime rib. My friend had the smoked ham in hay, which was good, and the fresh crab salad, which was really good. I felt like the night before I didn't get to eat a lot of steak, because I ate so much up front. And they makes a Yorkshire pudding that nobody else in New York makes, to go with the prime rib — that would probably be the meal I eat before going to the chair.
And then in the evening, I simply went down to the BeerParc place down below me, and I went to Edi and the Wolf — he has a little stand there — and I got one of his Cheddarwursts. I didn't have the bun or anything with it. I had some fresh coleslaw with it, on the side. You're supposed to do smaller meals, but I just love that Minetta brunch. And on the weekends I'm always a little worse. I had a lot of water throughout the day, because I was thirsty after brunch.
Monday, July 11
Monday was a shake again in the morning and a great workout. I told my trainer what I had eaten over the weekend, and he was very angry. I had a yogurt, I took that to run and I got to the office about eight-thirty.
I got so busy that I ran out and got a portobello sandwich at Hudson Bread, which is a big bread company that supplies a lot of New York. It's just down the road from us, about a mile down the road. He has a little sandwich shop, which is great. He was making a fresh portobello sandwich on a seven-grain whole-wheat bread. With it, a bottle of water. That was it. I needed to detox a little bit after that weekend. I think I snacked on a granola bar in the afternoon — Quaker Oats granola, I always keep a box of those around. Always peanut butter [flavor]. A lot of water.
Now, once a day I'll treat myself: I have a huge jar of Bazooka gum on my desk. The original Bazooka. And I'll take one a day out, and chew it, and that's it. And that helps me with my appetite, too. Sometimes two if I'm mad or stressed.
I had to go out with Pat and the Schnipper brothers; they own Schnipper's in the city and they're good friends of mine. We went down to Osteria Morini downtown — they hadn't been there and they wanted to try it. So we went down to Morini, and Michael White, probably the best chefs in New York now, he cooks very heavy. I tried to eat a little bit lighter that night. I had a polenta casserole which he made with porchetta. I just had a bite or two of that, but it was absolutely insane. I had the garganelli with radicchio, and then I had the simple grilled meats as a main course. My cousin Pat ate fish, I think it was a red snapper. I wasn't really very interested in it. I like fish, but I feel it's very unfulfilling as a meal. It's great when you want to eat light, but …
I went home and relaxed after that. I was snacking on carrot sticks, believe it or not. Going from one extreme to another.
Tuesday, July 12
Tuesday, I woke up in the morning and had an egg-white sandwich on whole-wheat toast. I made it with one slice of Cheddar cheese. Breakfast is the only meal that I'll attempt to cook.
I have a little Nespresso machine and I always take a double shot of espresso in the morning. I like the black capsules, which I think are the strong. Usually I'll have that every morning; I'll have one or two to get me started. Always after the gym, or it'll make me crazy.
I was running around all day. I stopped by a Dunkin' Donuts. I love Dunkin' Donuts, I won't eat them. I call them fat pills. I picked up a box of fat pills for my uncle at the office, and I bring them there, leave them there, watch everyone else eat them. I'd rather everyone else be heavy.
So I just got the tuna fish on the whole-wheat bagel. That I do a lot if I'm in a rush. And I got a small coffee, light with cream, no sugar. I knew I was going to eat heavy for dinner so I just went with light breakfast, light lunch.
I had a cup of egg salad in the late afternoon, from the deli down the street. And a bottle of water.
Tuesday dinner was at China Grill, which I hadn't been to in a long time. China Grill is the place that everybody, they imitated all their restaurants after — the Buddakans, the this, the that, they never duplicated it. They're all off-takes on that, because China Grill has been there like, 22, 23 years. My parents used to take me to China Grill when I was a kid, when we'd go down into the city. My father would start telling me weeks in advance, "If you're good I'll take you China Grill." I was like, "Oh boy, oh boy, oh boy." I couldn't wait to have the salads. It was the only time I'd ever eat calamari; they would hide it in the salad, and it was so good. As much as it's changed a little, it's still consistent. It's not the greatest food in the world, but goddamn it, it's tasty and it's good and satisfying. And every time I go in there it's packed, so they're doing something right.
I went there with my friend Paul, my other friend Eric. Josh Ozersky joined us that night. We're doing Meatopia with him, so I wanted to talk to him about that. We started with the calamari salad, the duck salad, the chicken salad. All little ones. We had the China Grill dumplings, which I still think are some of the best in New York, with the lobster roll, and the lamb spareribs, which you can put up next to any spare — whether it's a barbecue house or anything — it falls off the bone. And I love lamb. Jeff and Zach [Chodorow], the father and son who own that restaurant, came down. For main course we had the rib steak, I had the black cod — Yes, I ate fish. That's one of the few fishes I will eat in the city. I love that. With the miso glaze. We had the Sichuan beef, the prime rib, and the crispy spinach, of course, which is great. And, a seared tuna. And no dessert, because the desserts can get deadly over there. Jeff and Zach sat down with us and they're like, "C'mon, let's have bananas in the box." The bananas in the box came out and they're all eating it, like fighting at it, like Gremlins, like Mogwai, looking to eat after midnight. And I just took one little spoon of it, that was it. But it was enough to get me by, because it was just the taste that I was after. And he's such a character, too, Jeff, some of the stories he fucking tells. And that was it.
I went out to the Breslin that night for drinks with a new young chef who's coming into New York — he wants to learn about the meat business. He ate the lamb burger and the fries, I picked at the lamb burger and the fries, and we both had the Pimm's Cup cocktails. That was about 11:30 p.m. or 12 a.m. I was still kind of full from China Grill, but I just noshed; I took a little corner of the lamb burger just to see if it was still good, and it was. I made sure.
Wednesday, July 13
Wednesday morning I got up, I worked out, I had a shake. I didn't eat anything else, because I had eaten enough the night before. And I just had a banana and I had half of a turkey-and-ham sandwich. That was from the same place, Hudson Bread, down the street. It's a huge wedge, so even half of it is a like a full sandwich. It's just hard to find anything good around this area. I had that, I had my Bazooka gum. I stole three potato chips from my assistant's bag. They were open in front of the computer, that's why. They were Kettle chips. They were good.
I had dinner at my friend's restaurant Le Rivage, which is Paul I was telling you about. It's on 46th Street, in restaurant row. He's got one of the last classic French restaurants left in New York. It's classics, it's like, coq au vin, cassoulet, lamb racks. Anything good like that is what he has. It's a hidden gem in New York, this type of place. Anyone I bring there, no matter what chef it is, or what restaurateur, says, "Wow, where'd you find that place?"
I start out with a salad, he makes this salad — a fricassée, is that how you say it? A frisée salad, there it is, with a French garlic dressing, which is amazing. I love the escargot there. He's like one of the few people who still makes it. He makes an amazing quiche, which I usually just take a bite of it's so rich. And then I'll do either some lamb chops, or he'll grill swordfish. When he grills swordfish for me, it's one of the few places where I'll eat swordfish.