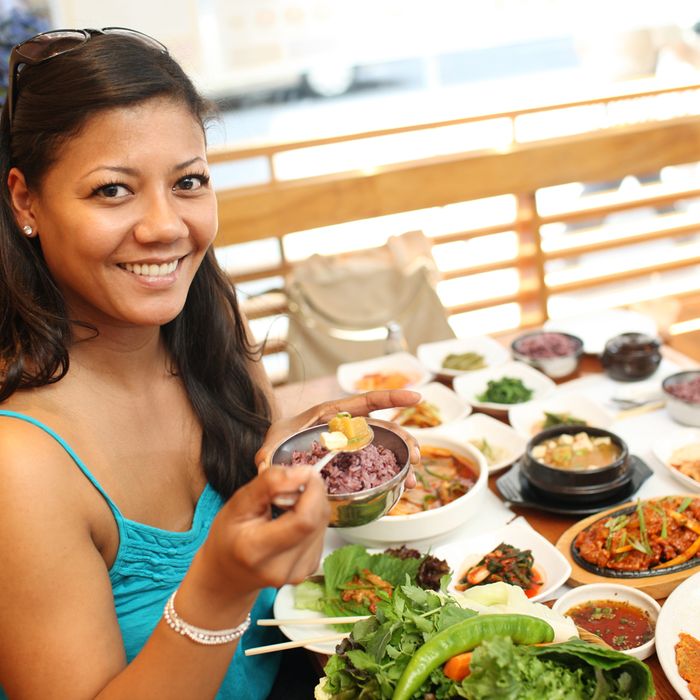 Vongerichten, enjoying the spread at Kunjip.
Photo: Melissa Hom
Marja Vongerichten may be married to a famous chef (that would be Jean-Georges Vongerichten), but it doesn't mean she considers herself a foodie. "My biggest torture is to sit at a long meal for two and a half hours," she tells us. "He took me to the French Laundry years ago and I was there for five and a half hours. I about killed him." But she admits that she and her husband usually sustain on simple food, not over-the-top tasting menus: "He's got his favorite little places and I lean towards Koreatown." It's something plenty of people will see when her public-television series Kimchi Chronicles makes its nationwide debut this weekend. "It was so much fun shooting," Vongerichten says. "I got to see my family in Korea, and Jean-Georges was there for a week in May, and I went again in December." And she assures us that the show is about a whole lot more than just kimchi and Hugh Jackman cameos: "People share their stories. It's super, super positive." For more positivity — and, okay, plenty of kimchi — read about everything Marja ate in this week's New York Diet.
Friday, June 24
I'm not much of a breakfast person, but I had cold Korean cucumber noodles. It's a dish I make a lot in the summer. I do it with soba noodles. It's cool and refreshing, and if you don't have an appetite for anything, it's a good filler.
Later that day I ate a handful of chips and some chicken wings at karaoke with my mom. Then Jean-Georges came and joined us, and we went to Don's Bogam. It's a Korean restaurant on 32nd Street. So I went with JG and my karaoke crew. We had galbi, which is marinated beef, and naengmyeon, which is like a water noodle. It's a chewy noodle that they put in this broth and season with mustard and vinegar. Oh, and sake.
Saturday, June 25
I had a coffee at West 11th Street Cafe. It's my friend's place. Always a large coffee with half-and-half and sugar. And always from 11th Street. I also had a ham, tomato, sprouts, Cheddar cheese, mustard, mayo. And an Arnie Palmer. So that was my lunch-breakfast thing.
Later on Saturday, we were upstate, and invited to a friend's house for dinner. It was a platter of cheese. Just. Cheese. Which totally stressed my husband out because he has to have three full meals a day. So I told my friend, "My husband's gonna have a conniption, can we please order a pizza?" So we had a margarita pizza and half a chicken cutlet, with three glasses of Champagne.
Sunday, June 26
Sundays are the days that JG cooks. He throws it down. I had grapefruit juice, three eggs sunny-side-up with shaved Parmesan cheese, and a cup of strawberries from the market.
Then I made lunch. We had a dish called dak bokkeum tang. It's a spicy chicken stew that JG loves. We had that with rice.
For dinner, we came back to the city and had our usual family dinner with Jean-George's son Cedric, his wife , and their new baby. We were at Mercer Kitchen. I had a raspberry bellini and two appetizers at once — the sea bass carpaccio, and artichoke with mustard-pickle sauce. Then my entree was skate with asparagus and rice. It had a soy-butter sauce. It was great. My favorite restaurants of my husband's have to be Spice Market and Mercer. I get weekly cravings for the salami pizza he has at the Mercer, which is just ridiculous.
Dinner was past JG's bedtime, so we didn't have dessert. Later while I was watching TV and JG was sleeping, I had some Polly-O string cheese. It's got no taste, but the texture is really good. I only snack at night, and it's always something savory. Meat and cheese are perfect for me.
Monday, June 27
I actually did have breakfast. I had the maple-vanilla yogurt from Ronnybrook, with strawberry muesli.
Lunch was the photo shoot for this. We went to Kunjip, and the owner really rolled out everything. I'd originally just ordered a spicy beef soup called yukgaejang, but she sent out kimchi pajeon, which is a kimchi pancake, and a cold soybean soup with noodles. There were six different kinds of kimchi, and she sent out spicy pork and stuff for ssam, so assorted lettuce and greens, and paste. It was really good. People should stop playing it safe when it comes to Korean food — stop ordering the bibimbap. Get adventurous and try different things!
Then for dinner I had leftover spicy-chicken stew that I'd made on Sunday, with rice.
Tuesday, June 28
I didn't have any breakfast. I was at Dylan's Candy Bar getting some stuff for Chloe, because she had such a good report card.
I went to brgr and had a burger with Cheddar cheese, just classic — lettuce, tomato, onion. And soda's my weakness, so I had a Dr. Pepper.
We had an event at the Korean Cultural Service for Kimchi Chronicles, and I did a demonstration of a pancake from my cookbook, which was kind of a disaster. The blender didn't work right, I had a spoon instead of a ladle, and the electric pan they had was all lopsided, so all the oil was on one side. It was just a mess. My very first cooking demonstration. I was like, How hard can this be? I've done it on the show. But the magic of editing is just … magic.
I also had some other food there. They had a cucumber kimchi and fried korean rice.
Wednesday, June 29
I went to H Mart in New Jersey and the spicy fish soup with rice and radish kimchi in their food court. And one spicy drumstick. I don't know if you've ever had Korean fried chicken, but this one is off the wall.
That night I made dinner for my cousin who works at Perry Street. I made a Korean dish. It's mackerel braised with a big Korean daikon, and spicy sauce. And radish kimchi. So I made dinner for the family and ate a little bit. Then I went to Mercer at nine for a real dinner. We had some clams and oysters, and a slice of that salami pizza that I live for, and sea bass carpaccio — I love it. I don't like a big fuss for dinner, and I like to eat quickly. I guess that's a Korean thing, because you order and everything comes out at once and it's super fast.