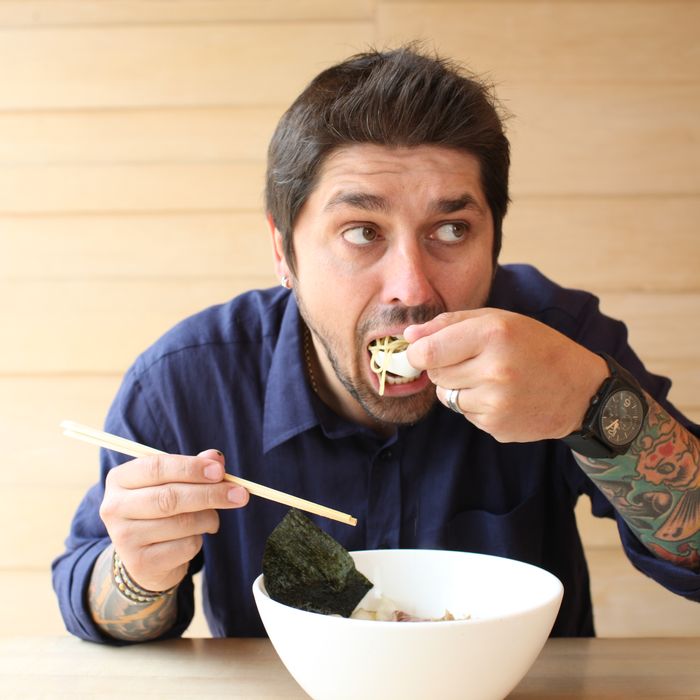 Lefebvre, enjoying the ramen at Momofuku Noodle Bar.
Photo: Melissa Hom
Ludo Lefebvre's super-popular L.A. pop-up LudoBites may only be open every few months, but that doesn't make Lefebvre's life any less hectic. He and his wife, Krissy, are in town this week to promote their new Sundance Channel show, Ludo Bites America, and it's the first time they're traveling with their 3-month-old twins. So how are they as travel mates? "No complaints," Lefebvre assures us. "They are not difficult like me. So I know that's great." Lefebvre says that even though LudoBites 7 is happening in two weeks, he's not interested in gleaning too many ideas from New York chefs. "I think I'm more interested in having lunch at Ssäm Bar. Only in New York, all duck. I want to see what they're doing with that." While he didn't make it to Ssäm in time for the Diet (rest assured: He got there yesterday), he still managed to do pretty well for himself while he was in town. Take a look at all of it in this week's New York Diet.
Friday, July 15
This was the day we flew to New York. In the morning I had a café latte at the house. My wife always makes me a latte. I bought a raspberry pastry at the airport, but I didn't eat it. I had my hands filled with the baby. The twins are pretty easy. On the plane they were very nice. They're just 3 months. You know, they're pretty easy. I think in 6 months, that's when people told me.
We stayed with my wife's friend in New Jersey, she was out of town, but we asked her where we could order a pizza. We ordered a pizza from Luigi's. Pepperoni, sausage, bacon, and mushroom. You have to have pizza when you come to New York. But it was a rectangle.
Saturday, July 16
Just coffee in the morning. Most mornings it's bread and butter. I don't eat too much eggs. If I'm in the house, it's coffee, always bread, butter, and jam. And sometimes oatmeal. But most of the time just bread, butter, and jam. If I'm in a hotel I'm going to eat eggs most of the time. But I don't cook eggs for myself in the morning. I never have time.
For lunch was the leftover pizza, the rest of the pizza.
Then I went shopping at Sickles Market and made hamburgers for dinner with caprese salad and roasted potatoes. I love to cook simple. I don't complicate too much at home. Always try to do it very simple. But sometimes I'm going to try something different, some new dishes at home too. Fancy things. Depends on the mood and the time. Now, with the twins, I don't have much time to experiment.
Sunday, July 17
Regular coffee in the morning, and Krissy's friend brought doughnuts back.
I had a piece of toast, and butter. When I know I am going to be eating a lot in New York I don't eat too much sometimes. But we ate dinner early, at four o'clock. Hanger steak and grilled green onions. And my wife's friend made creamed corn.
Monday, July 18
That morning, coffee and doughnuts again.
And we had lunch at Momofuku Noodle Bar. We met Kate Krader there from Food & Wine. We had charred octopus, pork buns, Momofuku ramen, chicken ramen, chilled spicy noodles, fingerling potatoes, corn, and they sent out the fried chicken, and hanger steak noodles. It had cucumber, yuzu, and smoked eggs. Then we had lychee and basil lemonade soju slushies.
We went to the Breslin and met April [Bloomfield]. I've never met her, never eaten with her. It's always good to talk to other chefs, with their own philosophies. And I'm always wanting to learn from other chefs. That's why I love my job. I'm learning just speaking with chefs about food. I don't know everything, and I plan to learn everything. So it's better sometimes for me to talk with people about food. You know?
For dinner, Sundance hosted a Ludo Bites America dinner at Craft. Everything was family-style. There was hamachi-and-artichoke salad, beets and tarragon, and ricotta cavatelli with summer truffle. The main courses were diver scallops, steak, sugar snap peas, hen of the woods, and pea-and-bacon risotto.
Tuesday, July 19
We stayed at the Gansevoort and had room service. Coffee, Frosted Flakes, pastries, orange juice. After our first interview we were hungry, so we stopped at a pastry cart. I got an everything bagel with cream cheese, but threw it out.
We stopped at a Rickshaw Dumpling truck, and had chicken-basil dumplings with spicy peanut sauce. They were good. We wanted to try a New York truck. And we had mango lemonade.
We went to the Gallery in Dumbo. I had the whole dourade and Krissy had steak frites. And then two different white wines. A Sauvignon Blanc from Napa and one from South Africa.
That night our friend had a viewing party for us in New Jersey. She had ceviche and a calamari and shrimp. And chips and salsa and guacamole. I just drank Champagne.
Wednesday, July 20
I didn't have breakfast. Just coffee.
Lunch was amazing. It was my first time at Le Bernardin. I love it. I'm a big fan of Eric Ripert, I met him for the first time. His food is amazing, and the restaurant was packed. For lunch! It was crazy. Twelve or fourteen courses. But you know their food is very light. And it was spaced very well, the timing is perfect. It took me like three hours, you know. But like I said, I ate very slowly, so it was good for me. Octopus, with squid ink. I liked that one. And just a simple wagyu tartare with shrimp and caviar. Classic thing, but great. Classic sometimes is good, too. Of course we forget about that.
Dinner that night was leftover ceviche at our friend's house. And she made spaghetti and meatballs.
When I come to New York, most of the time it's for working. And if I have time, yes I'm going to go eat at some restaurants. If I have time. That's why I have to make the time to eat at some restaurants. And I always wanted to eat at Le Bernardin and the Noodle Bar, so I took the opportunity to make it happen when I'm here.