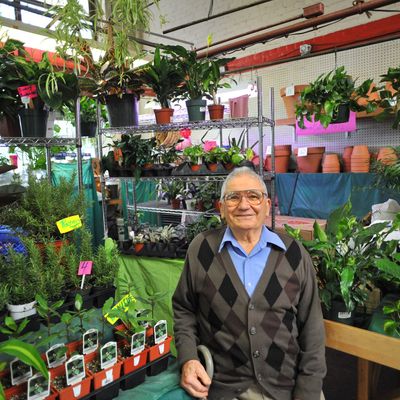 One of the Arthur Avenue Retail Market's most beloved vendors died over the weekend, according to the marketplace's official Facebook account. Florist and vegetable vendor Joe Liberatore was 93. Liberatore started his career as a street vendor in the thirties. If you've never heard of him, he was the last of the original 117 food merchants who first opened in 1940 at the public retail market in the Bronx.
Liberatore was born in 1918 to Italian immigrant parents who lived in Connecticut, but they moved back to Italy when he was very young. In 1936, when he was 17, he returned to New York with his father (his mother stayed in Italy). In the Bronx, he began to sell produce from a pushcart. According to the 2006 book Hidden New York: A Guide to Places That Matter, Mr. Liberatore would ride the Third Avenue el to Washington Market each morning around 2 or 3 a.m. to gather whatever vegetables he could afford and haul back (such as onions, lemons, strawberries, or beans) to sell on Arthur Avenue. He worked fourteen- to sixteen-hour days out of his seven-foot pushcart; vegetables like potatoes sold for a couple of cents per pound. During the cold months, he said, Mr. Liberatore burned newspapers in pots to stay warm. "When my mother came over from Italy," he told the Daily News in 2001, "she saw what I was doing and cried to my father: 'How can you let him do that?'"
A new opportunity came in 1940 when Mr. Liberatore heard that Mayor Fiorello La Guardia was going to build a large indoor market in his neighborhood. Mr. Liberatore was ambivalent. "Well, if they are going to make a market, I'll go inside," he told the authors of Hidden New York. "Otherwise, I'll do something else." La Guardia's plan to remove the city's thousands of pushcart peddlers was an ambitious one: five retail markets would collect the city's small vegetable and snack vendors; all remaining pushcart peddlers would be fined and phased out. The Arthur Avenue Retail Market was intended to consolidate two centers of street carts in the Bronx, on Arthur Avenue and Brook Street, at a cost of $126,000.
The plan was announced on February 29, 1940 in the New York Times; the Works Progress Administration provided the incentive (and financial boost) for the construction, and the market opened exactly eight months later. On the inside, 117 vendors lined the space in narrow stalls. Each vendor was allocated a cramped, 42-square-feet, "except for the butcher and the fishmonger," Mr. Liberatore told the Columbia Journalist in 2007, "who had larger spaces." Rent was a barely affordable $4 a week. Keeping the same long hours, Mr. Liberatore became successful.
La Guardia used the success of indoor retail markets as the pretext for effectively outlawing pushcart peddlers. "When we were outside, we were peasants," Mr. Liberatore told the Daily News in 2001. "When we moved inside, he said, 'Now you're merchants.'"
Though Mr. Liberatore retired in 1983 at the age of 65, he soon resumed his post at the front of the Arthur Avenue Market where he had shifted his business to houseplants, vegetable seeds from Italy, tomato seedlings, fresh bay leaves, and the occasional box of cauliflower mushrooms. Mr. Liberatore continued to sell plants at the market for the next 27 years. His shop in the market is decorated with old framed advertisements for produce, pictures of his parents, and a collection of glossies in which he poses alongside a range of politicians and public figures like La Guardia, Mayor Giuliani, Hillary Rodham Clinton, Cardinal O'Connor, and Terence Cardinal Cooke.
Mr. Liberatore helped accept an award from the Municipal Arts Society on behalf of the market in 2010. While the Arthur Avenue Retail Market has its own elected organizational board, Mr. Liberatore had been its "mayor" for as long as anyone could remember. Former customers are now posting tributes on the market's Facebook page.
Joe Liberatore at Arthur Avenue, The Real Little Italy of New York [Facebook]