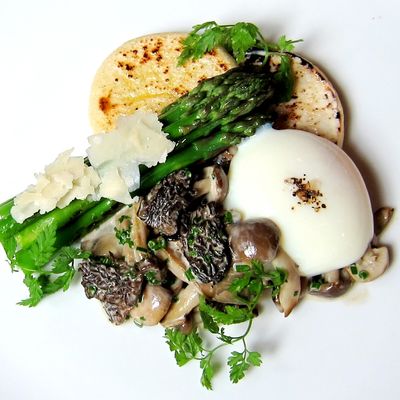 Farm egg with asparagus, morels, and a housemade English muffin.
Photo: Courtesy of North Pond
Each week on the Food Chain, we ask a chef to describe a dish he or she recently enjoyed. The chef who prepared the dish responds and then picks his or her own memorable meal. On and on it goes. Last week, Linton Hopkins of Atlanta's Holeman & Finch Public House talked about a standout egg-and-speck dish he'd tried recently at Table in Asheville, North Carolina. Now we want to know what's impressed Table chef-owner Jacob Sessoms. Jacob?
Who: Jacob Sessoms, chef-owner of Table in Asheville, North Carolina
What: Farm egg
Where: North Pond, Chicago
"It's just a really, really good late-spring dish. First-of-the-season summer truffles. I think what opened my mind up when I ate it was, most importantly, that I could start making my own English muffins. Since I've had it … I've been putting crumpets on the menu.
Just the use of classic flavors. I've eaten all over Italy during asparagus season and had some combination of truffle, asparagus, and Parmesan. It's just such a classic northern Italian, Piedmont combination. Looking at things from a different perspective by putting classic ingredients together in a different way is what I try to do at my restaurant."
North Pond sous-chef Paul Pearson responds.
"North Pond is a very local and in-season restaurant, so we were getting really good asparagus coming out of Michigan. And also burn morels — they grow on burned wood. For brunch, I went with an English muffin, because I'm English and it's something I brought over. It's a slow-cooked egg and it's there almost to act as a sauce. It's slow-cooked for an hour at 62 degrees; sous-vide. So you just sort of break it and it binds the dish. The asparagus is blanched and charred a minute in a very, very hot pan. The morels are sautéed … with some shallots and wine and then a mushroom stock, and then cream is added and reduced down, and then finished with chervil and chives.
The English muffin is a recipe that's a favorite I brought from England. We leave the dough to proof overnight in the fridge and then we punch that out, roll them with cornmeal, put them on the plancha: They're basically toasted on both sides on the plancha and then finished in the oven."