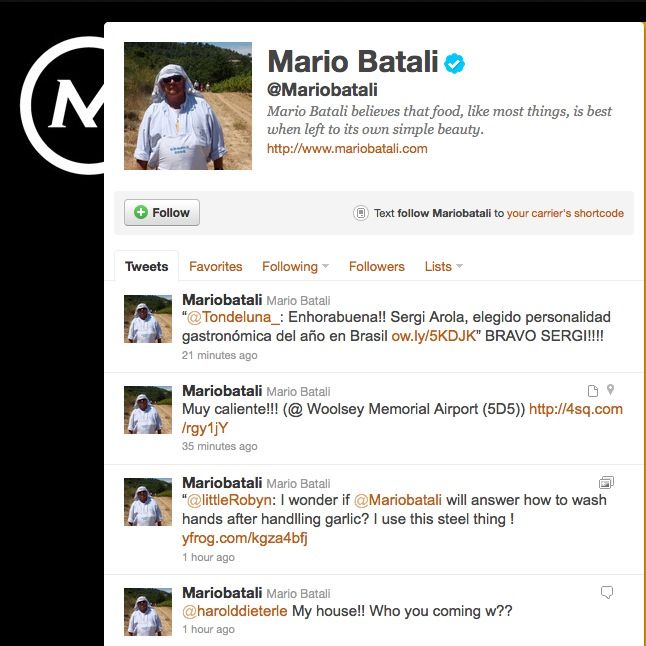 Batali's Twitter feed, in snapshot form.
Last week we took part in a panel regarding chefs and social media: Do they use it? How does it affect business? And is it a worthwhile way to spend your time if you've got, you know, a restaurant or two that you need to run? (The discussion itself was put together in part with American Express's YourBuzz, which helps small businesses manage their online presence, and which also advertises here on Grub.) The panel — Kenny Lao, Cesare Casella, Paul Liebrandt, Zak Pelaccio, and Gilt Taste's Francis Lam — was mixed. Lao said he only uses something like Twitter because he feels like he has to for the sake of his business, while Liebrandt uses his Twitter account to talk about his feelings re: the new Harry Potter. So it's not as if there's a lot of consensus on it.
There are plenty of other examples: Mario "Mayor of the Northport Farmers Market" Batali tweets about his summer vacation, Ludo Lefebvre shares photos that accompany his N.Y. Diet, and Thomas Keller is, predictably, a machine about tweeting things almost exclusively related to his restaurants. Eddie Huang has his moments, but for the most part chef feeds can be a little ho-hum, right?
Back in the good old days, chefs used to just blow off steam on Twitter — it was more exciting. But chefs have really toned down the online vitriol, with only a few exceptions. In other words, chefs and restaurateurs have learned what not to do in the realm of social media, but strategies for how to use the platform are all over the place. That's a good thing, since it'd be really dire if everyone took the Bobby Flay/Emeril Lagasse approach of devoting most of their Twittering to TV appearances and restaurant openings.
And yet: This stuff does add to the restaurant-going experience. (And isn't that sort of the ultimate point?) You get a glimpse into whatever the chef is thinking, or doing, or eating, or whatever. And if you go eat something at one of these chefs' restaurants, and you can draw some sort of connection between a dish and what the chef has been up to lately, that kind of deepens the experience, even if can also feel a little fanboy-ish. We're okay with that, but it wouldn't be so bad if chefs cracked a joke or three every once in a while, too.