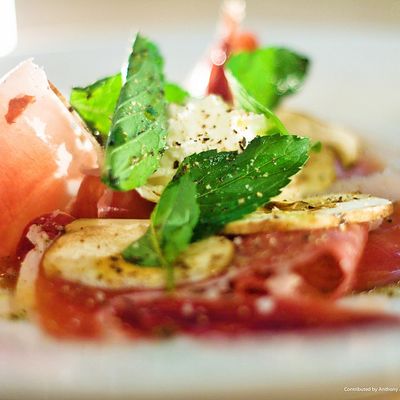 Table's sliced speck with porcini, egg, and mint.
Photo: Anthony Abraira
Each week on the Food Chain, we ask a chef to describe a dish he or she recently enjoyed. The chef who prepared the dish responds and then picks his or her own memorable meal. On and on it goes. Last time, Tandy Wilson of City House in Nashville raved about the veal brains at Atlanta's Holeman & Finch Public House. Now we want to know what Holeman & Finch chef Linton Hopkins considers his most memorable recent bite. Take it away, Linton.
Who: Linton Hopkins, chef-owner of Holeman & Finch in Atlanta
What: Sliced speck with porcini, egg, and mountain mint
Where: Table in Asheville, North Carolina
"I just ate up at Table in Asheville, North Carolina. The food was just delicious. The dish that stood out for me was this egg dish he had, which had shaved speck on it. And it was really yummy. The egg was charged in a canister and piped out. You had these little blob dollops that were like a hollandaise, almost, with the country ham. I want to say it had a shaved cheese on there."
Table Chef Jacob Sessoms responds:
"The dish that he had was sliced speck ham, raw sliced porcini mushroom, a variety of mint indigenous to the southern Appalachians called mountain mint — it's a real potently mentholated mint — that's dressed with lemon juice, sea salt, black pepper, and extra virgin olive oil, and then that appetizer was finished with an egg-yolk foam. So in a foamer it was egg yolks, butter, and lemon juice. And there's fresh shaved Parmesan on that dish. The thing to know is we get porcinis when we get them, and then we don't. We don't see them very much in the southern Appalachians — it's only a couple of weeks [a year]. Domestically they're available for about a month. I'll order them in season from the Pacific Northwest."