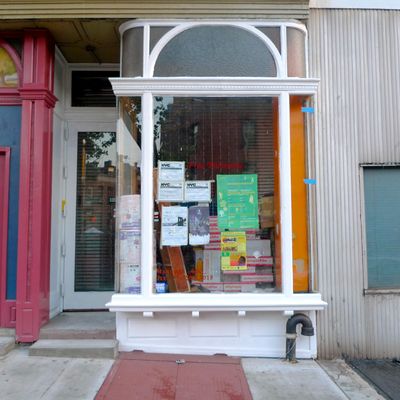 It will look a little better when it's completed.
Photo: Hugh Merwin
The owners of Brooklyn's Greene Grape and Greene Grape Provisions have been busy: They've just released their own cloud-based, iPad checkout register system, which is already in use at 70 spots across the country; next month they'll open Greene Grape Annex (or just "Annex," if you prefer it short), a very small coffee shop located across Fulton Street from Provisions. The narrow space was most recently the home of Marquet Fine Pastries.
Annex will be open early morning to snag commuters headed for the train and will churn out cappuccinos throughout the day — and the shop will sell Blue Bottle. Co-owner Amy Bennett tells us Provisions manager (and coffee nut) Mike Hayes will oversee the drinks, and that Provisions general manager Sabrina Meinhardt will eventually play a role in the small shop's food selection, which will be made in a much larger space — a commercial kitchen located behind the storefront.
The kitchen will supply the prepared foods for the grocery store; the space is literally being built out by Boris Ginet, a chef who worked at Choice Greene, and Jonn Carlson. "Boris is designing a kitchen from a chef's point of view," says Bennett, adding that it makes her happy to let her creative team steer the project. "It's been a labor of love, this whole thing. It's about setting up a canvas for them to work with." Greene Grape Annex will open sometime next month.
Greene Grape Annex, 680 Fulton Street, nr. S. Portland Ave., Fort Greene