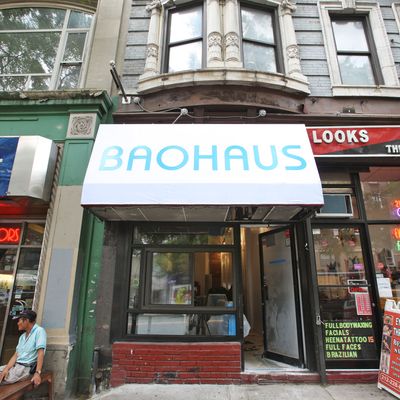 Baohaus II opens tonight.
Photo: Melissa Hom
It's been just over half a year since Eddie Huang's sit-down spot, Xiao Ye, crashed and burned amid Four Loko crackdowns, and now the Huang-ster is back to doing what he does best: stuffing buns. When the second Baoahaus opens this evening in the East Village, it'll have all of the staples from the Rivington shop (the pork-belly-stuffed Chairman Bao; our favorite, the fried-chicken-filled Birdhaus), plus a bunch of new offerings. The Robin Givens resurrects the spices from Xiao Ye's catfish dish ("peppercorns, chilis, garlic, cumin seed, and other dericious things," says Huang) but applies them to "confit chicken" instead; and there's a tempura broccoli bao inspired by the appetizer at No. 7. Huang tells us Sean Scotese, of defunct Eastern Alley and the upcoming Ghost Street, helped with the opening, and that the two hope to collaborate more in the future.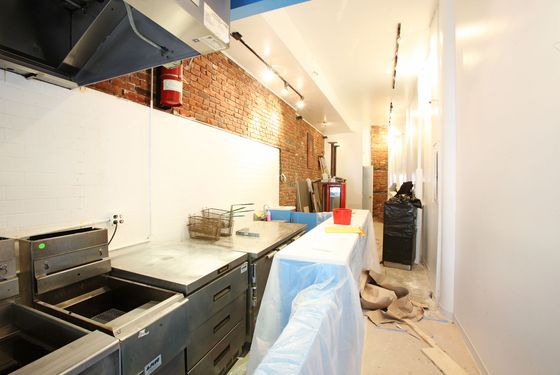 The new shop has around twenty seats (actual seats, said Huang via e-mail, "Not stools with Ikea missing screws and feet"), and unlike the tiny "Fisher Price kitchen" on Rivington, there's a fryer, a gas range, and an oven. That means room to do rotating specials like a Taiwanese-style chicken patty or minced pork stew on rice, as well as cold-pressed juices. The shop opens at 7 p.m. tonight with specially priced $2 baos, but as you can see in the photos, things were still in progress when we stopped in. Still, you can get the picture, and if you want to preview the rest of the bao lineup, the menu is below.

Baohaus Menu [PDF]
Baohaus, 238 E 14th St., nr. Second Ave.