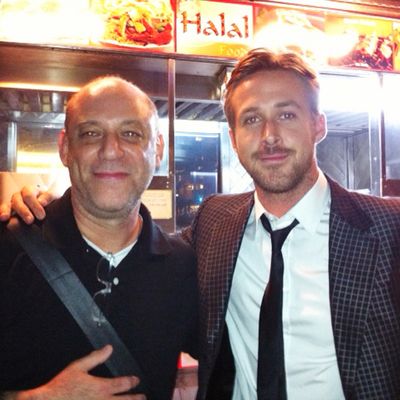 Gosling and the author, last night.
Photo: Bennett Marcus
Apparently the popcorn that was handed out at last night's premiere of Crazy Stupid Love didn't tide over one of the film's stars, Ryan Gosling. (Maybe working on those abs makes him extra hungry?) After the movie ended and a fleet of black SUVs bearing movie-studio honchos took off from the Ziegfeld Theater, one pulled up at the northeast corner of 54th Street and Park Avenue, and out stepped Gosling, who ordered food from the Rafi's Halal cart. This reporter lingered for a while, debating whether to approach, and after the actor cheerfully posed for a photo with another passerby, we asked if we could take a photo of him in front of the food cart. "Only if you're in it," Gosling said, and his companion genially took my cell phone and snapped this pic. The cart's proprietor said Gosling ordered a chicken gyro, and gave him a $10 tip, before getting back in the car and proceeding to the after-party at Tao. No word on whether he ate again at the restaurant.